4-star OL Elijah Pritchett picks Crimson Tide: "Alabama is just different"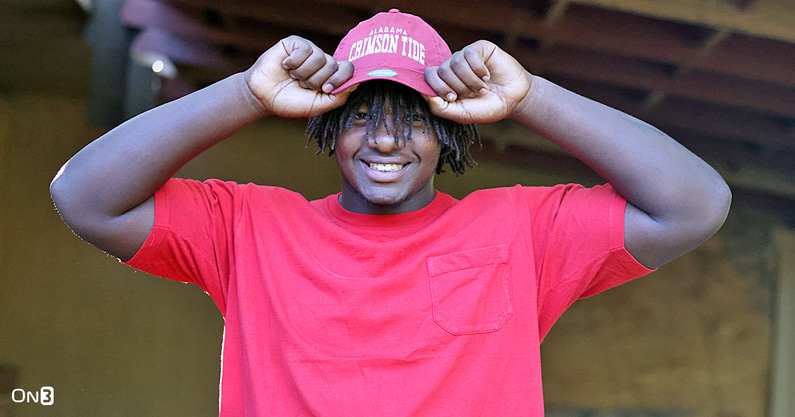 Columbus (Ga.) Carver four-star offensive tackle Elijah Pritchett kept many guessing on his commitment until the end. At different phases of his recruitment, he had coaches at Alabama, Florida State and USC feeling very optimistic about their chances.
In the end though, the 6-foot-6, 280-pound top 100 talent committed to Nick Saban and the Crimson Tide.
"It was a really tough decision because all the schools on my list were high achieving teams, but Alabama is just different," Pritchett. "I feel Alabama is the right school for me because of how they win, what they do in the SEC, and how the coaches there can make me the best I can be.
"It probably came down to Alabama and Georgia for me, and both are great SEC schools that win, but Alabama just feels different for me.
"The biggest thing about Alabama is just what Alabama does all around."
The visit for the Mercer game sealed the deal
Pritchett took multiple visits to Tuscaloosa over the summer, and he had a good feeling about the Crimson Tide entering the season, but what finalized his decision was his visit for the Mercer game September 11.
"That visit when they played Mercer was the icing on the cake," Prtichett said. "Seeing the team compete, even against a smaller school, showed me a lot.
"It was my first game at Alabama too, so seeing the fans was amazing. The fans knew it wasn't a big game, but they still had the mind-set that they wanted to beat the crap out of Mercer.
"The way the team played, the atmosphere for a game like that, and how the coaches had the team ready really showed me Alabama was the right school."
Alabama's winning ways factored into Pritchett's decision
Alabama is off to a 4-0 start and Pritchett said entering the season that he was going watch how the schools on his list played.
Florida State was at one time Pritchett's top school, and the Seminoles had some real buzz around them coming out of the summer.
"Florida State is a great school, and I love coach (Alex) Atkins (offensive line), but Alabama is the right school for me," Pritchett said. "I probably have the closest relationship with coach Atkins, but Florida State is going through a lot.
"I watched the season and I knew I was high on Alabama, so as things played out, I knew it was Alabama for me."
The Crimson Tide started to make their move quietly over the summer. Pritchett is not big on sharing information about his visits, and he kept some trips to himself, but Alabama getting him on campus in June and July made a significant impact.
"The timing with Alabama really started in June. Over the summer I started to really feel Alabama. I didn't talk about it too much and I didn't finalize anything until this season, but over the summer is when I started thinking it could be Alabama.
"Their coaches are great, they recruited me hard, and getting to play for the best, Nick Saban, was big. Coach Saban really wanted me and he was the first person I told about my decision.
"Playing for him is very exciting for me."
On3's take on Pritchett
National Director of Scouting Charles Power is high on Pritchett. The new Alabama commit is top 50 player in the country, and he has been playing at a high level this season.
"Elijah Pritchett was one of the biggest risers along the offensive line in our last rankings update," Power said. "His senior video thus far is awesome. Pritchett is a light-footed left tackle and plays with high-level reactive quickness. He's a coordinated mover in pass protection and as a run blocker.
"The 6-foot-6, 280-pounder looks to be playing very fast both physically and mentally as a senior. I'm eager to see what he looks like the rest of the season and in an all-star setting. Alabama is getting one of the fastest-rising offensive tackle prospects in the country."