5-star Kiyaunta Goodwin locks in official visits, visits Alabama this weekend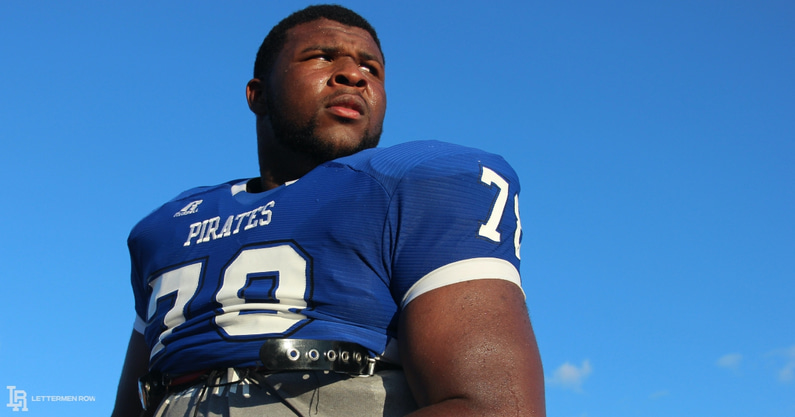 On300 offensive lineman Kiyaunta Goodwin has always indicated he would like to take official visits, despite being a longtime commitment to Kentucky. That visit process begins this weekend with an official visit to Alabama.
Kentucky Sports Radio confirmed with Goodwin's family that the 6-foot-7, 300-pound five-star will be in Tuscaloosa this weekend for an official visit. Goodwin ranks as the nation's No. 16 player in the country and the top-ranked offensive tackle in the 2022 class. He committed to the Wildcats in April.
Kiyaunta Goodwin has other visits scheduled
Kiyaunta Goodwin's family confirmed the Alabama visit is just the first in what will be a busy visit calendar. Alabama has never stopped recruiting Goodwin. Tide assistant Doug Marrone has done a good job of recruiting him. Plus, Goodwin says he's talked Kentucky native and former Alabama star Jedrick Willis about the Crimson Tide.
After the trip to Alabama, Goodwin visits Michigan State on Oct. 30. He'll then be at Kentucky on Nov. 6, Ohio State on Nov. 20 and Michigan on Nov. 27.
Goodwin is top commit in Mark Stoops era
If Kentucky wants to climb the ladder in the SEC, it must win hard-fought recruiting battles like this one for Kiyaunta Goodwin.
KSR writes that Goodwin is the top commitment the Wildcats have landed since Mark Stoops took over. Keeping him a part of this class is a priority.
"Vince Marrow did an excellent job securing Goodwin's commitment in April," KSR's Adam Luckett writes. "But Alabama and Ohio State have not stopped pursuing the blue-chipper. Kentucky is in a good spot. It will need to have a successful official visit when Goodwin heads to Lexington again in November."
Goodwin has made multiple visits to Lexington over the process.
The Louisville native has made multiple stops at Kentucky since the summer and attended multiple games this season. Goodwin was one of the thousands who rushed the field following Kentucky's upset home win over Florida on Oct. 2.
Having him on campus for that big victory certainly left a lasting impression, Goodwin said.
"It was absolutely crazy," Goodwin told On3. "That was the loudest I've ever heard that stadium."