Nick Saban discusses approach with only one scholarship running back available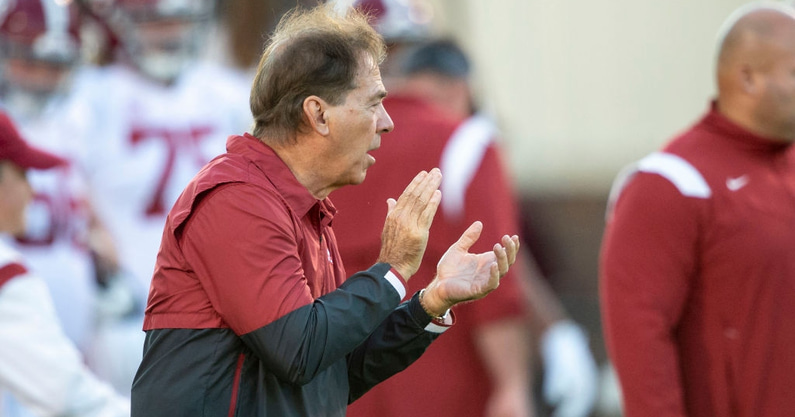 With Alabama running back Brian Robinson's status uncertain for Saturday's SEC championship game against No. 1 Georgia after suffering a left leg injury in the fourth quarter of the team's Iron Bowl win over Auburn, the Crimson Tide could have just one scholarship running back available this weekend: sophomore Trey Sanders.
Following the injury to Robinson, Sanders stepped up and made some plays in Robinson's absence – rushing for 23 yards on 10 carries and tallying two catches for 12 yards. For the 2021 season as a whole, Sanders has totaled 221 yards and two touchdowns on 50 carries for the Tide.
Following Alabama's win over Auburn, a 24-22, four-overtime classic, Crimson Tide head coach Nick Saban was asked about Sanders' play in his postgame press conference.
"He did a good job," Saban said Saturday night. "He did a nice job with catching the ball. He did a good job in block protection, especially on some critical passing situations. When they blitzed, he made great pickups and ran the ball fairly effectively. So, we were pleased."
While Sanders could potentially be the primary back for Alabama against Georgia, Saban was asked Monday during his weekly press conference if he had ever been down to just one scholarship running back and what challenges it creates.
"Well, to answer your question, the first part is no," Saban said. "The second part is we have to coach the players that we have. We've got to get them ready to play the game. There's nothing else we can do about that. Injuries are a part of the game. You don't ever like to see a player not be able to compete, especially when they've had a great year all year long and probably want to play in this game because of that.
"But, as a coach, you just have to coach the players and try to get the players ready that you have available to play in the game and have confidence in them and try to do the things that they can do well to help the team."
Saban praises Georgia's pass rush
Looking specifically at Georgia's defensive unit, one of the team's strongest areas on that side of the ball is its pass rush, which Saban had plenty of praise to give to.
"To me, they've got some really good rushers up front. They do a great job of pressuring the quarterback," Saban said. "They've got really good scheme in terms of how they pressure the quarterback. They mix up the coverages in the back end quite a bit. They've been very effective with the way they play pass defense all year long. So, it's going to be very challenging for us. It's not just about throwing the ball. It's about protecting, whether it's man to man, zone, reading it, throwing the ball to the right guys. There's a lot of things that go with that.
"When we play the best, we have some kind of balance on offense, which really wasn't the case last night. So, it's going to be important for us to be able to create that as well."
No. 1 Georgia and No. 3 Alabama kickoff at 4 p.m. ET Saturday at Mercedes-Benz Stadium in Atlanta.