Nick Saban reveals how players responded to practice call-out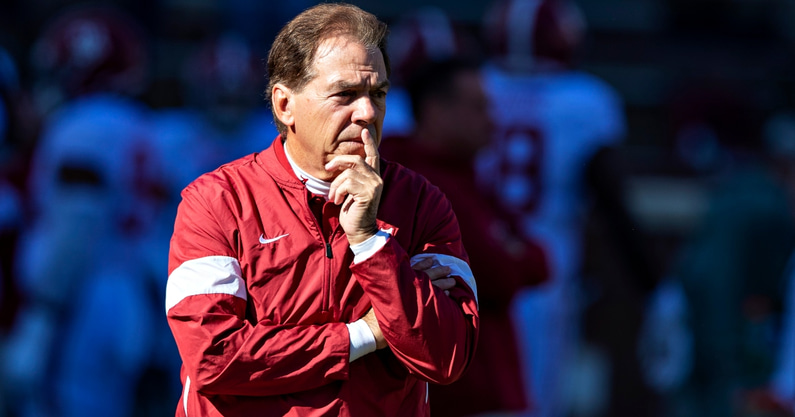 Last week, Nick Saban called out his team for having the "poor-me's" in practice. With a big game coming up this weekend, the Alabama coach talked about how his players responded to the public call-out.
Saban said his team didn't have the right mindset in practice last week leading up to a showdown with Arkansas. Now with Auburn lying ahead in the Iron Bowl, he said his players are looking much better this week.
"I think the players have had good energy in practice and had pretty good focus," Saban told reporters Wednesday. "You never know until you get to the game. I know we've got a lot of guys who are banged up, like every team does at this time of the year, so it gets a little bit harder to stay focused on doing your job if you're going to focus on what's ailing you. But we have a lot of guys that have a lot of mental toughness and are able to play through those types of things. But it's been good so far."
It's a stark contrast to his tone last Wednesday when Saban didn't hold back when asked how practice was going.
"Yesterday was OK," Saban said in his press conference. "Today, we had a lot of guys with the 'poor me's,' whatever that means. You get into your feelings, you don't do things the way you need to do them to have success and when you get that way, you don't create good habits and that's not a good thing. It's not something that we can accept and it's something we've got to do a better job of."
Nick Saban didn't just call out his players in a press conference
Saban also voiced his frustration about practice on his radio show last Thursday. He talked about some "negative vibes" around the program on "Hey Coach and The Nick Saban Show."
"I actually got on the players pretty good yesterday about that because you want to try to build and finish, and players have to understand what it takes to finish," Saban said. "When all you read and hear is the unimportance of the the game you're playing and the lack of respect for the team you're playing from other people outside. Because [amazingly], to me, everybody believes what they read and you all can put whatever you want on your phone and run into the wall looking at it, but they believe it.
"But that's not a good thing. That's very, very difficult, and you have to have a lot of maturity and a lot of good leadership on your team because it creates this culture of what I just talked about. Just show up and win. We'll just show up and win. And it doesn't work that way."