Veteran Alabama cornerback makes major decision on future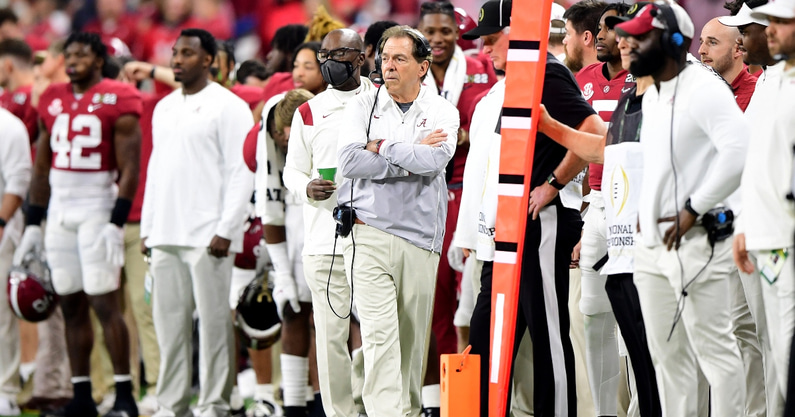 According to Matt Zenitz of On3, Alabama Crimson Tide cornerback Josh Jobe will be heading to the NFL instead of returning to school for another season. Jobe dealt with a toe injury all season and eventually got surgery on it, ending his season. However, the cornerback is still viewed as a potential Day 2 pick.
Jobe had the opportunity to turn pro after the 2020 season but decided he needed one more year in Tuscaloosa to improve his draft stock. Staying in school was still an option due to the free COVID-19 eligibility rule and would have been Jobe's fifth year in school.
The cornerback suffered his toe injury during the SEC championship, causing him to miss both the Cotton Bowl against Cincinnati and the national championship against Georgia.
During his four seasons in Tuscaloosa, Jobe appeared in 51 games and recorded 129 tackles, 3.5 of which were for a loss. In pass coverage, he had 22 passes defended and three career interceptions. Jobe was also able to force two fumbles and recover another one.
Jobe will be just the latest Alabama defensive back to make the jump to the NFL. Over the past two seasons, Trevon Diggs was drafted in the second round by the Dallas Cowboys while Patrick Surtain was a top 10 pick by the Denver Broncos in the 2021 NFL draft.
Coming out of high school, Jobe was a four-star prospect according to the On3 Consensus. He was the No. 1 player to come out of his home state of Connecticut and the No. 16 cornerback in the country.
Alabama Crimson Tide DC Pete Golding on Khyree Jackson
Prior to the national championship, Alabama defensive coordinator Pete Golding exuded confidence in cornerback Khyree Jackson. He will be somebody competing to take over Jobe's starting role next season for the Crimson Tide.
Evidently, Jackson's performance against Cincinnati in the Cotton Bowl was promising.
"I think obviously over throughout the season Khyree understanding the concepts and the coverages and the terminology and the communication piece. I think anytime you're a new player in a new system, when things are still and they're stationary and you get a call, you're okay," stated Golding. "When stuff starts moving around, which we'll see every week, and something changes, how fast can you process that to go from one coverage to the next, which I think is a struggle for anybody but especially a new player new starter.
"I thought he did well. Obviously there's certain things some mistakes we've got to clean up, him as well, that will get you beat versus a good team that maybe Cincinnati didn't take advantage of.
"But he competes. He's playing hard right now. Got toughness. He's got the length you want at corner. I think he can play the ball in the deep part of the field. I think he showed that. We just have to cross the T's and dot the I's and make sure he's locked in knows what to do to give us our best chance."