ESPN writer gives overreaction take on Alabama loss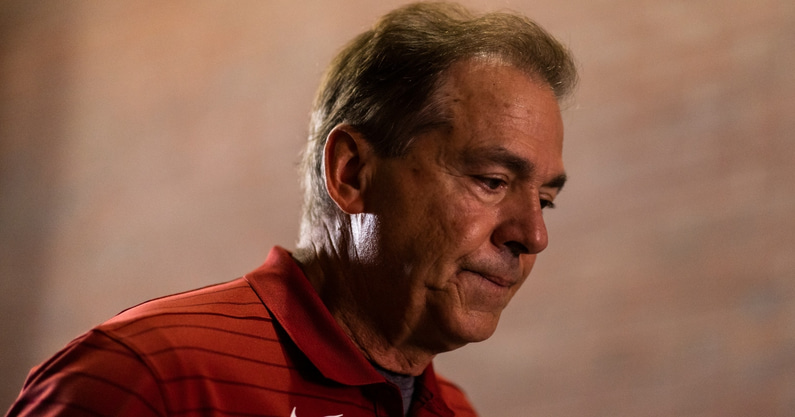 The Alabama Crimson Tide lost — something that is a rarity under Nick Saban– but while it's understandable the die-hards in Tuscaloosa are likely thinking the worst, there have been mixed reviews on if Alabama is truly out of College Football Playoff contention.
CBS pegs Alabama on the outside looking in, penciling Nick Saban's group playing in the Rose Bowl. Sporting News had a similar projection that left the Tide out of the College Football Playoff.
It's mid-October and there are dozens of scenarios that could unfold between now. It's a strange feeling as college football fans have become accustomed to the Alabama Crimson Tide being synonymous with the final four selected, but it's been a wild unpredictable ride so far.
ESPN Senior Writer Mark Schlabach released a piece titled College Football overreactions: is Alabama Done?
Under a bold subheading that reads Alabama CFBP Hopes are done, the longtime college football journalist dives in to his take.
"Even though I predicted in the preseason that Texas A&M's Jimbo Fisher would be the first former Nick Saban assistant to take down his mentor, I have to admit that I didn't see the Aggies' stunning 41-38 upset of the Tide coming," Schlabach began.
He then pointed out why the loss was so stunning.
"Texas A&M had lost consecutive games to Arkansas and Mississippi State, and had earlier looked mediocre in a close victory at Colorado. Aggies quarterback Zach Calzada seemed to be in over his head, and the A&M defense wasn't wrecking much of anything. That's what we love about college football: Fisher is grossly overpaid one week; LSU boosters are figuring out how to come up with $120 million to hire him the next."
Will Alabama Crimson Tide make playoff?
Then, it's clear Schlabach was reminding everyone suddenly writing Alabama off to finish the year with in the top four to contend for a title.
"So the Crimson Tide will still have plenty of motivation, starting with Saturday's game at Mississippi State," Schlabach reiterated. "Only one of their six remaining regular-season opponents is currently ranked (No. 17 Arkansas), and they'll probably be heavily favored the rest of the way."
That is light at the end of a gloomy tunnel painted others. Schlabach closes his segment out reminding folks that Saban has made his way to the big dance a variety of ways. He then provides data that should give all Alabama Crimson Tide supporters hope.
"Remember that only two of Alabama's six national championship teams under Saban finished unbeaten, the first in 2009 and the most recent in 2020," the ESPN writer continued. "The other four lost once in the regular season and recovered. That's why the Crimson Tide still have the third-highest chance of reaching the CFP at 54%, according to the Allstate Playoff Predictor, behind Georgia (91%) and Oklahoma (59%)."
Inside the Alabama locker room, it's clear the Tide's goals for yet another College Football Championship remain in tact.
"Hopefully we'll learn a lot from this," Nick Saban said after the loss. "We still can accomplish everything we want to accomplish. We've got to do things better than we did tonight. We've got to play better, we've got to be more consistent. We've got to finish drives. We've got to get more turnovers on defense. We need to get more stops on defense. There's a lot of things we need to fix."
It feels too early to write the Alabama Crimson Tide off, especially considering the talent in place and Saban's competitive nature. It should be a fun month or two, that's for sure.