LOOK: Alabama freshman Jaheim Oatis reveals weight loss ahead of 2022 season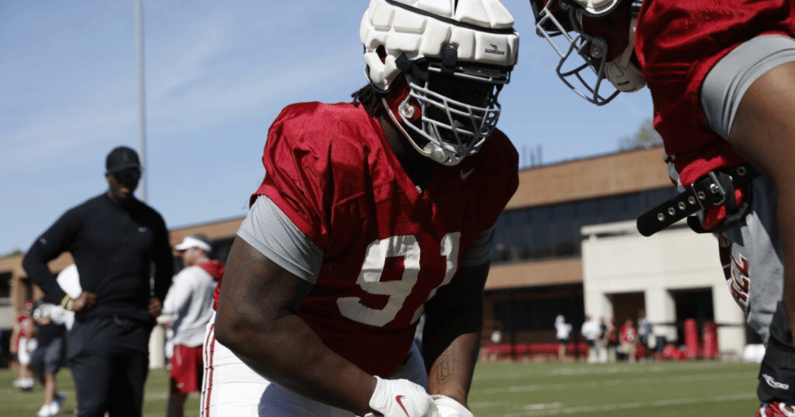 Incoming freshman and Alabama defensive lineman Jaheim Oatis revealed Wednesday that he's been on an incredible weight-loss journey since the end of his senior season of high school football ended. Since then, Oatis is down 74 pounds . Once sitting at 416 pounds, Oatis is now 342 with just over a month remaining until his true freshman season.
Oatis was a four-star player who, in the On3 Consensus, ranked as the No. 81 overall prospect, No. 11 defensive lineman and No. 2 player from the state of Mississippi. Prior to committing back in April of 2021, Oatis had held his offer from Alabama since his eighth-grade football season.
After being rated as a top-100 prospect coming out of Columbia High School in Mississippi, the 6-foot-5, 340-plus pound interior defensive lineman is now set to add depth to the Crimson Tide's defensive front, but isn't likely to see much playing time this season with a litany of upperclassman talent in front of him.
Oatis is regularly active on social media with updates regarding his weight loss, and to follow along with the new Crimson Tide nose guard, follow him on Twitter @JaheimOatis.
Jordan Battle reveals why he came back to Alabama instead of turning pro
When a blue-chip prospect commits to any university out of high school, they tend to let the public know that for the next three to four years, they'll be attending this college or that college – the key word being three to four years. For Alabama standout safety Jordan Battle, he could have been drafted into the NFL by now, but instead has committed himself to finishing his degree before taking his talents to the pros. 
"Obviously, the most motivation to come back was the national championship – trying to get that national championship back," Battle said at SEC Media Days. "But obviously getting a degree for my mom and for myself as well. That's the big thing in the family, a mom and my dad got a degree, so I'd like to [earn my] degree as well."
It's no wonder head coach Nick Saban has called Battle one of the best leaders on his team. Instead of playing football for millions of dollars as a highly-touted rookie, he's instead relying on NIL until he earns his degree sometime over the next two semesters. Luckily for Battle, his NIL Valuation is $617,000 which comes in at No. 37 in the NIL 100 and No. 27 in college football.
On the field, however, Battle notched 85 tackles during his junior campaign with the Crimson Tide – good for fourth on the team last season. He also proved to be one of the better ball-hawking safeties in the SEC last season with three interceptions (two of which Battle returned for touchdowns) and three pass deflections.