Alabama receives news of key returning offensive player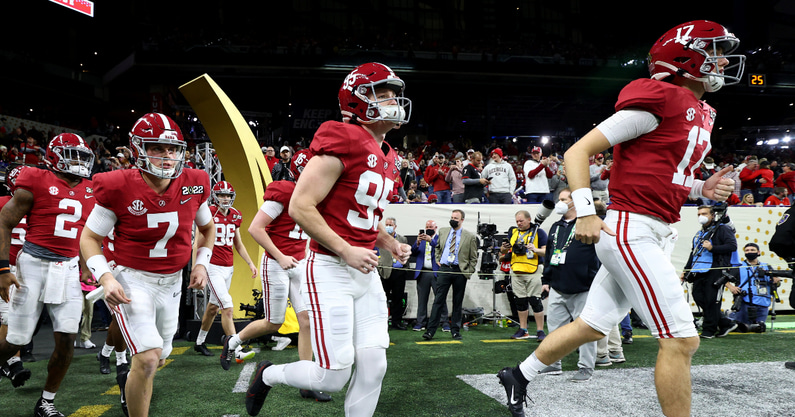 Alabama tight end Cameron Latu will return to the Crimson Tide program for the 2022 season, On3's Matt Zenitz has learned.
Latu, a redshirt junior, could have declared for the 2022 NFL Draft. However, he instead opted to return to Alabama for one more season.
Latu played in all of Alabama's games this season, and though he reeled in 26 receptions, he showed big-play potential, taking those catches for 410 yards (an average of 15.8 yards per catch). Additionally, Latu scored eight touchdowns in the 2021 season, frequently being used as one of Bryce Young's favorite red-zone targets. Latu was particularly involved against Georgia in the College Football Playoff national championship game, a contest that the Bulldogs lost 33-18 — after Alabama lost John Metchie to an earlier injury, it lost Jameson Williams in the national title game, and Latu stepped up as one of the biggest receivers; he finished the game with five receptions for 102 yards, both tallies being season-high totals, and eight touchdowns.
Latu arrived at Alabama in 2018, appearing in two games but redshirting the year. Interestingly, in 2019, he first began to add depth in the tight end and special teams units — after converting positions. Latu arrived on campus in 201 as one of the nation's top weakside defensive end recruits, only to switch positions to tight end. 2021 was his first full season as a starting tight end.
Latu, a native of Salt Lake City, Utah, attended Olympus High School where he blossomed into a four-star recruit via the On3 Consensus, a complete and equally weighted industry-generated average that utilizes all four major recruiting media companies.
Latu stays, but Alabama loses a lot to Transfer Portal
Latu opting to stay another year at Alabama is huge for the Crimson Tide offense, as the 6-foot-5, 246-pound tight end figures to once again play a key role with Bryce Young under center. However, he appears to be the exception to the rule, as several Alabama players either entered the 2022 NFL Draft or entered their names into the NCAA Transfer Portal.
Five former Alabama players entered the NCAA Transfer Portal on Tuesday alone.
Alabama tight end Jahleel Billingsley, a position-group peer of Latu's, entered the portal after the former four-star recruit saw a decreased role. He was fazed out of the offense in part thanks to the emergence of Latu, a converted defensive lineman.
Then, junior linebacker King Mwikuta has entered the Portal. A 6-foot-5, 238-pound defender, Mwitkuta recorded just one total tackle for the Crimson Tide this past season.
Additionally, linebacker Drew Sanders has entered the transfer portal. Sanders, a former five-star recruit according to the On3 Consensus, will be one of the top players on the market. And the same applied to offensive lineman Tommy Brown and four-star quarterback Paul Tyson, both of whom announced their intentions to enter the portal.