LOOK: Alabama softball star Montana Fouts will return for fifth year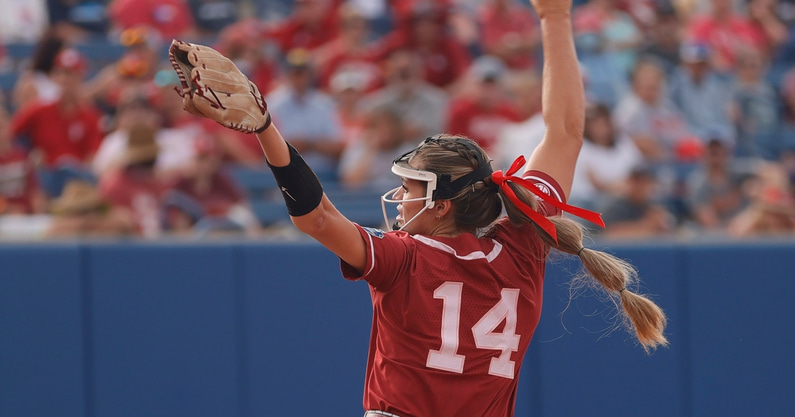 Alabama crashed out of the NCAA Tournament on Sunday, failing to make the Super Regionals after losing to Stanford in Tuscaloosa. Star pitcher Montana Fouts did everything she could to help the Crimson Tide pull out two victories on Sunday but the Cardinal were able to prevail in a Game 7.
Fouts, who has been with the softball program for four years now, had a decision to make on whether or not her Alabama career was over. On Tuesday, Fouts announced there would be a fifth-year and she would be back in the circle for head coach Patrick Murphy next season.
Fouts released a longer announcement on her Instagram, going more in-depth on her decision to return.
"I want to thank the University of Alabama for everything they have done for me," Fouts said via her Instagram. "For installing greatness, pure love, passion, and family. It's been the best 4 years of my life. I've learned so much from this place. I believe Jesus has a plan, and has led me to exactly where I need to be.
"I will continue to thank the Lord for any door that closes because he knows how to open them too.
That's why I will stay HOME, and keep bleeding crimson. This is a Home and a culture that will pump through my veins until the good Lord calls me. You'll see me proudly wearing the A next year. I don't have to think twice about that.
"Murph- not only are you a hall of fame coach, but you're a hall of fame man. I'll die on that hill so Bury me In Dixie, Sweet Home Alabama, Roll Tide and Amen."
Fouts made 34 appearances for the Crimson Tide this season, starting in 23 games. She finished the season with 190 innings pitched and a 2.10 ERA. Already considered one of the best pitchers in the country, Fouts will return to Alabama with hopes of winning a national championship for the program.