Alabama defensive lineman DJ Dale reveals 2022 plans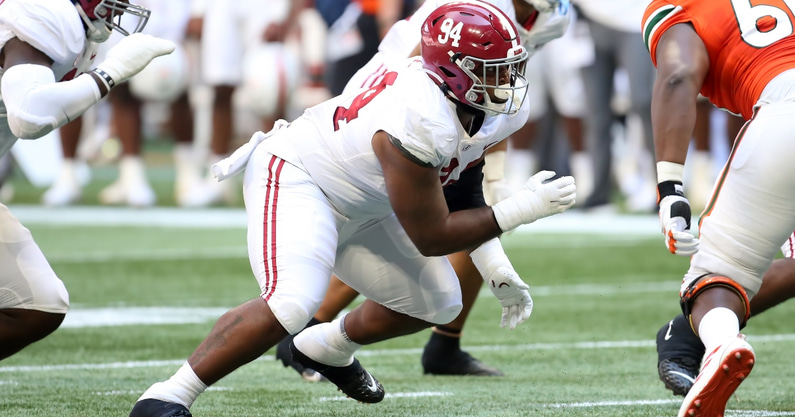 Alabama just received some great news for its defense. Defensive lineman DJ Dale announced on Friday that he is returning for the 2022 season instead of pursuing professional opportunities.
Dale has played in 36 games in his three-year collegiate career, including 13 this season. On the year, he totaled 18 tackles, four tackles for loss, and two sacks. In his career with Alabama, Dale has 57 tackles, eight tackles for loss, three sacks, two passes defended and two fumble recoveries.
"Growing up in Alabama, I knew how special it would be to one day get a chance to play for the Crimson Tide," Dale said. "When I received an offer from Coach Saban, I knew I had to come be a part of this program.
"Since stepping foot on campus as a freshman, I have grown into a better player and a better man. The academic staff, the nutrition staff, the training staff, the coaches, my teammates – everyone at this University have put in countless hours to make me better. But I still have room left to grow.
"We didn't end this season the way we wanted to and there is still work to be done. With that being said, I will be returning for my senior year. We have unfinished business to take care of in 2022."
Dale's return helps an already impressive Alabama defense
Alabama came up short in the National Championship, falling to Georgia on Monday night in Indianapolis. After the Crimson Tide's season was complete, a lot of players began announcing their intentions for next season. Some entered the NFL Draft, and many opted to enter the NCAA Transfer Portal.
Dale, though, wasn't quite ready to end his Alabama career. Instead, he will return to the field for another season, looking to achieve the team's ultimate goal yet again by winning another national title.
Linebacker Henry To'o To'o also announced his decision to return to Alabama on Friday, just about an hour prior to Dale. To'o To'o's return helps keep an incredibly impressive linebacker duo in tact alongside star Will Anderson. Now, with Dale back in the fold as well, the Crimson Tide have been able to keep a strong nucleus of its defensive core.
To'o To'o and Dale had similar sentiments in their announcements to return. Both players wrapped things up by saying that Alabama has unfinished business, and that they are looking to finish on a strong note next season.