Alabama Director of Sports Science takes shot at Oregon following Kayvon Thibodeaux comments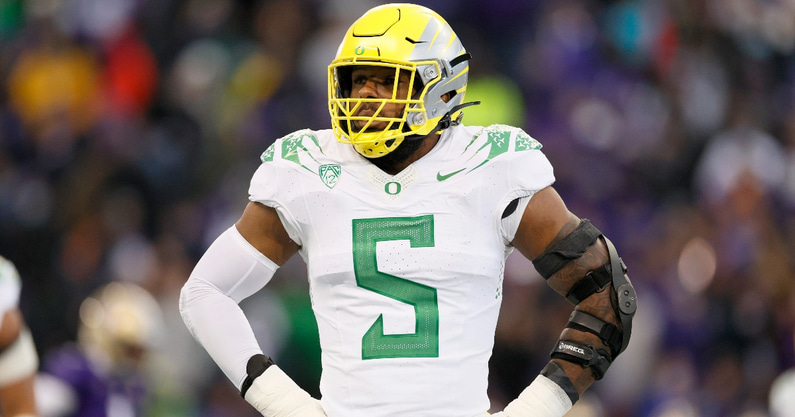 After former Oregon edge rusher Kayvon Thibodeaux decided to take a swing at the value of an Alabama degree recently, naturally, there were going to be plenty of people in the Crimson Tide fan base that were angered by those comments. Alabama Director of Sports Science Matt Rhea tweeted on Friday, "Well guys, Alabama players will probably win more rings than you. And they'll definitely put more players in the NFL than us. But in three years you won't have eye problems and you'll all be working for Nike."
Rhea mentioned the vision comment because Thibodeaux recently said he went to Oregon to avoid the "stigma" of an Alabama education, among many other comments.
It's tough to understand what provoked the former Oregon star's comments. His comments weren't wise on a number of levels.
Even if he did think that, he would've been wise to keep those comments to himself, because Crimson Tide fans might have wanted to buy his NFL jerseys and his cryptocurrency in the future. That's not going to happen now.
He's likely going to regret going after the Alabama fan base, which is well known as one of the most ravenous and passionate fan bases in college football. While Rhea is one of a first people in the Crimson Tide fan base to fire back at Thibodeaux, he certainly won't be the last.
In case you missed them, his comments from earlier in the week are below.
His comments from earlier in the week
Here are Thibodeaux's comments from earlier in the week with an interview with FOX Sports' Joel Klatt. They began discussing the value of an Oregon degree vs. an Alabama degree.
"If I give you a fishing pole, would you know how to use it?" started Thibodeaux. "If I've never learned, or if school has never been important to me, or a job or a career has never been important until I was done playing football, how would I know how to go get a career or job? I won't."
"I thought about and I said, what world do I want to be a part of? Literally. I sat back and said if I go to Alabama, I'm going to win national championships. Literally. But do I want to be a guy whose known to be a national championship winner, or do I want to be a guy whose known for being a part of the greatest organization in the world? You know what I mean? What people don't realize is that football is an American sport. So no matter how great Alabama is, people are going to play football in America, Canada, a couple other places. But a brand like Nike?"
Thibodeaux on Alabama: 'It's not the West Coast. It ain't Harvard.'
Continuing, Thibodeaux believed the education he received at Oregon compared to the one he would've received at Alabama is vastly different.
"For me it was like, what brand associations do I want to be tied to?" stated Thibodeaux. "For me, I already hate the stigma of football players being dumb jocks. So now, do you know the stigma of Alabama education? It's not the West Coast. It ain't Harvard. So for me, I had to look at it and say I was only going to be in college for three years. Like I said, if I would've went to Alabama — one, I would probably still be there. Two, I probably wouldn't have graduated yet. And three, I don't know if my degree would mean anything.
"I think Oregon may be the only place where you are guaranteed – I wouldn't say it's a guarantee – but there is a ninety-percent chance that if you want to, a Nike opportunity is there. And there's a guarantee that if you play football at Oregon, you can work in the corporate Nike world. That's a guarantee. Phil Knight — I can call him and he'll tell you that today."
On3's Stephen Samra also contributed to this report.