Alabama issues official statement following arrest of basketball player Darius Miles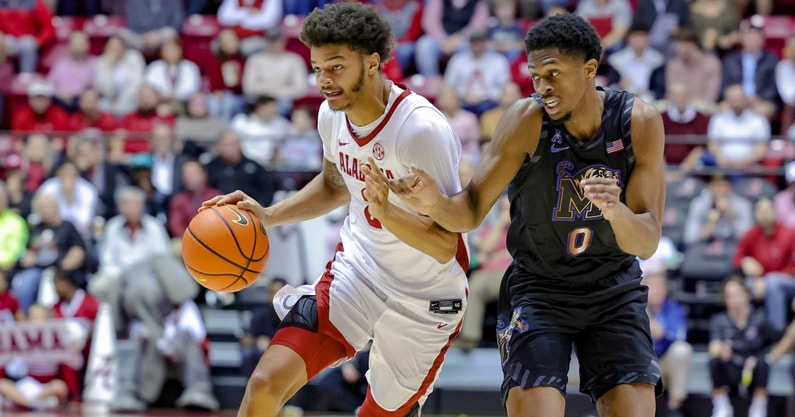 Darius Miles, a junior forward for the Alabama basketball program, was amidst a season where he was in and out of the Crimson Tide's lineup. He was said to be out with a 'personal matter' to end December and then, as of Saturday, ruled out for the season with an ankle injury he had been dealing with since the preseason.
However, his story has taken a surprising turn for the worst. In connection to the shooting of a woman that took place in Tuscaloosa on Sunday morning, Miles has since been connected, charged with capital murder, and detained. Ben Flanagan of AL.com has since provided video of Miles leaving the Tuscaloosa County Jail.
On Sunday evening, following the stunning news, the University of Alabama sent out the following statement:
Alabama statement following arrest of Darius Miles
"The University of Alabama's utmost priority is the safety and well-being of the campus community. We are grieved by the incident that occurred near campus last night and extend our deepest condolences to the victim's family and friends. We are grateful for the quick and thorough response of law enforcement and emergency response teams, and we will continue to fully support the ongoing investigation. We were made aware of the recent charge against student-athlete Darius Miles; he has been removed from campus and is no longer a member of the Alabama men's basketball team," the release stated.
"The University offers comprehensive emotional and mental health support resources. Through the holiday, members of the campus community can call UAPD at 205-348-5454 to reach the dean for support or to connect with emergency counseling services. On weekdays, the Counseling Center is available for students at 205-348-3863. Student Care and Well-Being can be reached at 205-348-2461, and faculty and staff have access to the Employee Assistance Program by…"
During his junior season, Miles was averaging 1.5 points and 1.5 rebounds per game in limited action for the Crimson Tide. In the 2020 recruiting cycle, he was rated as the No. 35 small forward in America, according to the On3 Consensus Rankings.
On3's Sam Gillenwater also contributed to this article.