Report: Alabama kicker Will Reichard to declare for 2023 NFL Draft after Sugar Bowl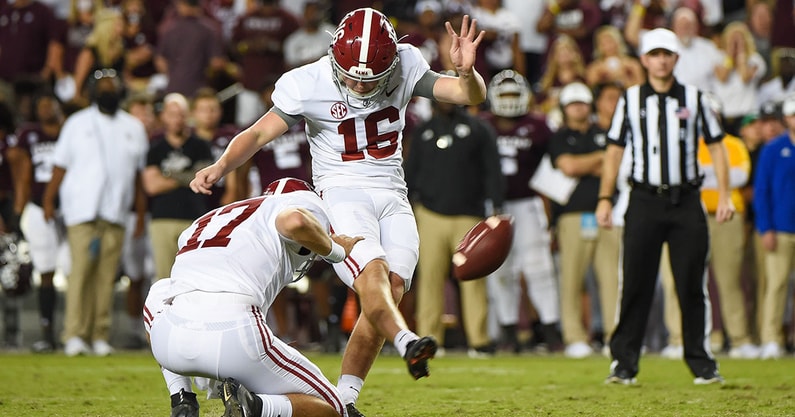 Alabama kicker Will Reichard has made his decision on whether or not he'll declare for the 2023 NFL Draft. The Crimson Tide special teamer will turn professional after the Sugar Bowl, according to BamaOnLine's Charlie Potter.
Reichard could have had one more year of eligibility thanks to the blanket COVID-19 waiver. Instead, he's going to head to the NFL and forego that final year.
"I definitely did think about it, coming back or leaving," Reichard said, via Potter. "I wasn't sure for a really long time, and then after talking to my friends and family and some people that I trust, I decided to go ahead and give it a shot."
Reichard has also accepted a bid to play in the Senior Bowl, it was announced last week. He confirmed his plans to play in the game, as well.
This year, Reichard made 21 of 25 field goal attempts this year and went a perfect 58-of-58 on extra point attempts. He arrived in Tuscaloosa as a three-star recruit the No. 1,236 overall recruit in the 2019 cycle, according to the On3 Consensus, a complete and equally weighted industry-generated average that utilizes all four major recruiting media companies.
More on the 2023 NFL Draft
The 2023 NFL Draft is set to take place from Thursday, April 27 through Saturday, April 29 in Kansas City, Missouri. The event will be held at the plaza just outside of Union Station.
Round 1 of the NFL Draft is set to begin at 8 p.m. ET on Thursday, Apr. 27. Rounds 2-3 will begin at 7 p.m. ET on Friday, Apr. 28, and Rounds 4-7 will begin at 12 p.m. ET on Saturday, Apr. 29. The draft will be broadcasted throughout the weekend on both ESPN and NFL Network.
To be eligible for the NFL Draft, players must be at least three years removed from their final year of high school while having used up their collegiate eligibility. Underclassmen are able to request league approval to become eligible for the draft, as are players who have graduated prior to using up all of their collegiate eligibility. 100 underclassmen were approved for last year's draft. 73 of those 100 underclassmen were granted special eligibility while 27 of them were underclassmen who had completed their college degrees.
The 2023 NFL scouting combine will take place from Feb. 28 through March 6 in Indianapolis.