Alabama linebacker Henry To'o To'o announces intentions for 2022 season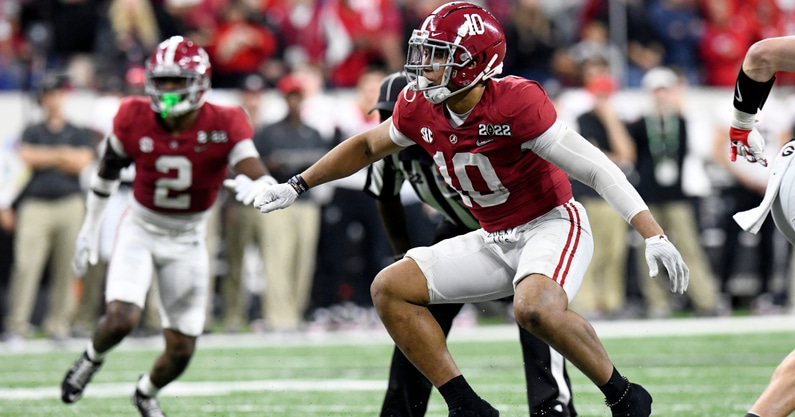 Alabama linebacker Henry To'o To'o just made a big announcement, where he revealed his intentions for the 2022 season. Instead of entering the NFL Draft, To'o To'o will return to Alabama for another season, the rising senior announced on Friday.
To'o To'o racked up a team-leading 112 tackles this season, adding four sacks, one forced fumble and two passes defended. This season was his first in Tuscaloosa after he transferred in after two years at Tennessee.
"For the last year I've been blessed to play football at the University of Alabama," To'o To'o said. "God put me in a place that has welcomed me with open arms and Alabama is my home now. This place has helped me to grow as a player and as a man and has introduced me to a group of teammates that will be my brothers for life.
"I loved my experience this past season but things didn't end how any of us wanted. We didn't achieve our ultimate goal, and I can't leave my brothers now knowing that we have unfinished business to attend to. Let's get to work in 2022."
To'o To'o's return is big for the Alabama defense
Prior to joining the Crimson Tie, To'o To'o was extremely productive with Tennessee. As a freshman in 2019, he had 72 tackles with two passes defended and 0.5 sacks. In 2020, he totaled 76 tackles with two passes defended, one sack, one interception, and one touchdown.
By returning to Alabama next season, To'o To'o ensures that an impressive linebacker core remains in tact. Will Anderson, one of college football's best overall players, also returns for another season, giving the Crimson Tide arguably the top linebacker duo in the nation.
Alabama lost two linebackers in the last week, as Jaylen Moody and Shane Lee have both decided to enter the NCAA Transfer Portal. Moody played sparingly behind To'o To'o and Anderson this season. Lee played in ten games, also playing sparingly as a backup. EDGE Drew Sanders also entered the portal last week.
Linebacker Christian Harris has yet to announce his decision on whether or not to return to Alabama for next season. Regardless, To'o To'o decision is one that will excite many in Tuscaloosa.
Alabama looks to be in line for another strong season in 2022. The Crimson Tide have a young core that will look to improve upon this season's disappointing loss to Georgia in the National Championship.