Alabama star Phidarian Mathis announces NFL Draft decision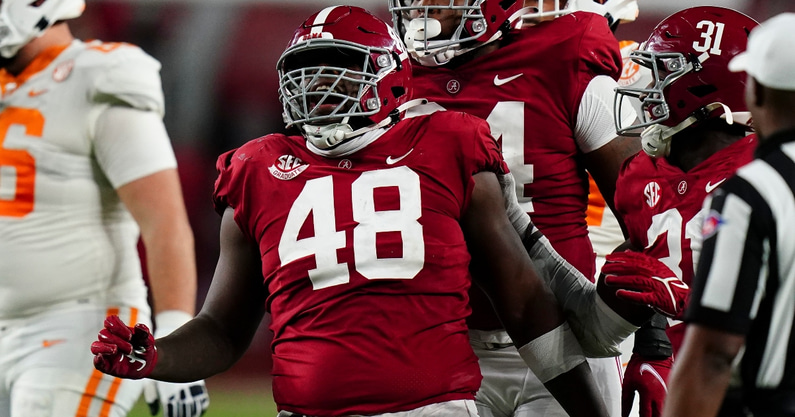 A few nights after losing the national championship to Georgia, the Crimson Tide will lose one of their most talented defensive linemen to the 2022 NFL Draft. Alabama star defensive tackle Phidarian Mathis officially announced he will enter the 2022 NFL Draft, he announced on his Twitter page Wednesday night.
He wrote: "First, I would like to thank God for giving me such a fantastic opportunity to play football at the collegiate level. To my family and loved ones, who have supported me throughout this five-year journey, I would like to thank you for EVERYTHING!"
"To my brothers, I love you all for life, and I'm always one call away; no one can ever take away all the memories I've built with you guys. We are forever locked in! (B Psi Phi!!)
"Coach Saban, thank you for giving me a chance to represent this University to the fullest. Thank you for believing in me and helping mold me from a young boy into a young man I'm forever grateful for you, GOAT."
"To all my Defensive line coaches, thank you guys for showing me the game, but most importantly, thank you, Freddie Roach. Thank you for being by my side no matter what, letting me be me, and always keeping it real with me. I've learned a tremendous amount from you, and I know you will always be one call away; you are the realist in my eyes. Thank you, Big Dawg."
"As this chapter in my life comes to an end, I am excited to see what the future may hold. With that being said, I'll be declaring for the 2022 NFL Draft. ROLL TIDE FOREVER! Phidarian Mathis #48"
Mathis had a dominant season in 2021 and established himself as one of the premier defensive tackles in all of college football. He racked up 53 tackles, 12 tackles for loss, and nine sacks. He also had six quarterback hurries, two fumble recoveries, and one forced fumble.
Mathis is remarkably light on his feet for a player his size, 6-foot-4, 312 pounds. Earlier in the season, Mel Kiper, Jr. ranked him as the third best interior defensive line prospect in the 2022 NFL Draft.
He injured his shoulder in the national championship game after a Georgia offensive lineman landed on him after a play. Mathis walked off the field while grabbing his right shoulder.
The former Alabama star was one of the most underrated pieces on a very, very talented defense for the Crimson Tide.