Bill O'Brien downplays criticism of Alabama's offense in 2022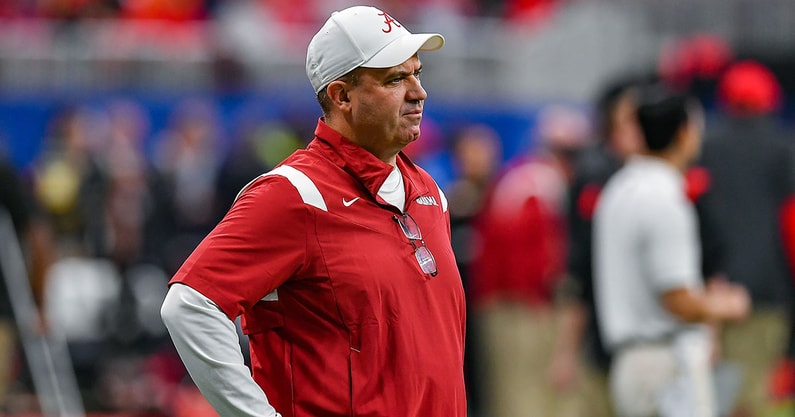 This year, Alabama returned the Heisman Trophy winner and added a high-profile running back transfer to its offense. That's why expectations were high for Bill O'Brien's offense in his second year as the Crimson Tide's offensive coordinator.
Instead, Alabama finds itself on the outside looking in of the College Football Playoff and playing in the Sugar Bowl this week against Kansas State. O'Brien has been the subject plenty of blame from frustrated fans this year about the offense. However, he hasn't heard much criticism.
"I don't really pay attention to that. Sorry," O'Brien said ahead of the Sugar Bowl. "I don't know what the criticism would be."
Although fans are frustrated after some tough performances on offense, Alabama averaged almost one more point per game than last year. However, the Crimson Tide saw its total offense drop from 488.2 yards per game in 2021 to 475.7 yards per contest in 2022.
The biggest drop in production came in the passing game, though, as Alabama went from 338.2 yards per game last year to 278.3 yards this year. But there are a couple factors in play with that number. Bryce Young suffered a shoulder injury that might have limited his production, and the Crimson Tide used the running game more in 2022. Led by Georgia Tech transfer Jahmyr Gibbs, Alabama averaged 197.4 rushing yards per game — 47.4 more yards than it averaged a year ago.
O'Brien admitted while there are likely areas to improve, just as there is in anything, he thinks the offense still produced this year. But as far as criticism goes, he said he wasn't the person to ask about that.
"Look, we all try to do better," O'Brien said. "We're all trying to do the best we can, to be as consistent as we can. I think, over the last two seasons, we've been pretty productive. I think we've averaged 40 points per game, thereabouts. Are there areas we can be better at? Certainly. There's always areas we can be better at, and we work hard to do that.
"So as far as criticism and things like that, I don't know. That's probably a question for somebody else."
Now, Alabama is gearing up to take on Kansas State, which won the Big 12 Championship over CFP-bound TCU. Kickoff for the Sugar Bowl is coming up at noon ET on New Year's Eve from the Caesars Superdome in New Orleans.