Brandon Miller wants to build on leadership skills he learned at Alabama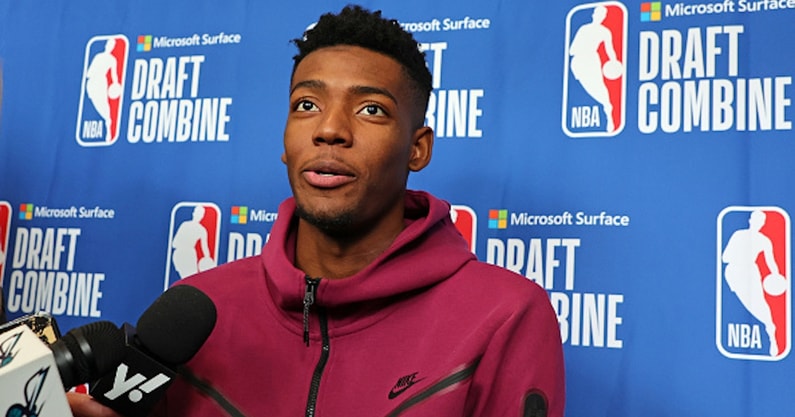 Former Alabama basketball star Brandon Miller is ready for the NBA Draft but said he wanted to build up his leadership skills while going pro.
Miller was one of the best players in college basketball last season, but it wasn't without controversy. Miller was present and allegedly ferried a gun to a January shooting that led 25-year-old Jamea Harris dead.
But with no criminal charges and the pros in front of him, Miller focused on the on-the-court factors of his future career.
"Being a vocal leader," Miller said of his next goal going to the NBA, via Shams Charania. "I think I started being vocal leader this past year in my college career. I think I've always lived with my actions. In high school, I didn't really talk to anybody in high school. Ever since I got to Bama, I kind of got close with  the team and the coaches, and just played into that."
Last season, Miller played 37 games and finished with 18.8 points per game, 8.2 rebounds per game, 2.1 assists per game, shot 43% from the floor and 38.4% from three-point range.
As a member of the Class of 2022, Miller was a five-star recruit out of Antioch (Tenn) Cane Ridge, according to the On3 Industry Ranking, a weighted average that utilizes all four major recruiting media companies. He was the No. 1 overall prospect in the state, the No. 5 small forward in the class and the No. 14 overall prospect in the class.
Brandon Miller opens up about lessons learned, mental health following investigation
Darius Miles, a teammate of Miller's at Alabama, has been charged along with another person for the shooting. Miles is charged with capital murder and was denied bond on Wednesday by a judge.
Miller has not faced any criminal charges as a result of the shooting an investigation, continuing to play for Alabama through the end of the season before entering the 2023 NBA Draft. 
"It's definitely a learning lesson," Miller said." You can clearly see that your career can change in a heartbeat. And one thing I've learned is you always gotta be aware of your surroundings and where you're at, at all times."
Miller also shared that he started regularly meeting with a counselor amid the furor surrounding him. The teen was suddenly at the center of the biggest story in college sports with every single action under a microscope, for better or worse.