Attorney of Brandon Miller releases statement to 'provide additional facts'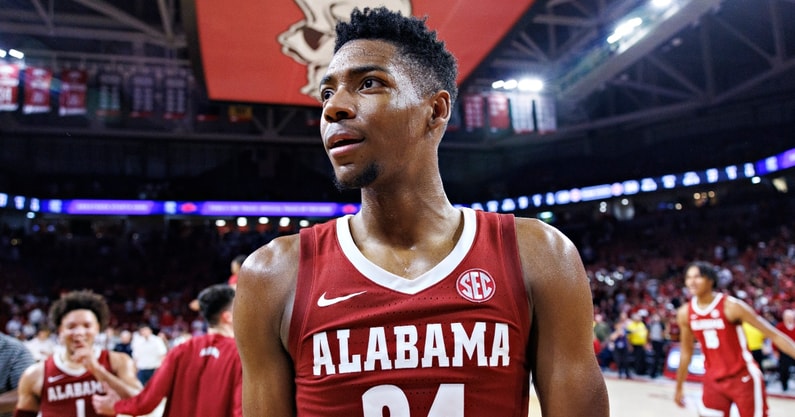 A statement has been made by the lawyer of Brandon Miller, hoping to "provide additional facts" on the night of Jan. 15. Michael Davis and former Crimson Tide player Darius Miles have both been charged with capital murder while Miller does not have anything to his name.
Jim Standridge is representing Miller, giving the side of the Alabama forward. He said Miller never touched the gun owned by Miles, which was eventually used to kill Jamea Harris.
"Mr. Miles texted Brandon and asked him to bring his firearm," a portion of the statement read. Brandon subsequently arrived at the scene to pick up Mr. Miles. Brandon never got out of his vehicle or interacted with anyone in Ms. Harris' party. He was never involved in a verbal altercation with Cedric Johnson or Mr. Davis.
"Brandon never touched the gun, was not involved with an exchange to Mr. Davis in any way, and never knew that illegal activity involving the gun would occur."
Standridge stated there is video evidence backing up everything presented in the statement. Here, you can read the full statement via Ryan Phillips of the Tuscaloosa Patch.
Alabama does have a game to play on Wednesday night, traveling to face off against South Carolina. Miller is expected to suit up and play against the Gamecocks. He has arguably been the best freshman in college basketball this season and is on his way to being named a first-team All-American.
Legal expert explains why Brandon Miller faces no charges
A legal expert has weighed in on the Brandon Miller situation, explaining why there have been no charges attached to Miller's name. Jay Town said the Tuscaloosa DA made the correct decision, saying there was no "unlawful purpose" from Miller in bringing the eventual murder weapon back to Miles.
"Based on what we know, the declination by the Tuscaloosa DA is correct and Miller should not be charged,'' Town, a former U.S. Attorney and prosecutor in Madison County, said via AL.com. "It doesn't appear evidence exists that Miller knew that transferring the firearm was for an unlawful purpose, hindsight notwithstanding.
"Therefore, no (conspiracy or aiding and abetting) would apply. It doesn't seem there is a federal theory of prosecution either."
Tommy Spina, a defense attorney from Birmingham, gave his thoughts on the matter as well. "Intent" is the word he used, saying if Miller was going to be charged, he would show it. Since none was found during the investigation, Miller will not face the same charges as Miles and Michael Davis.
"There's not much dispute about the fact that the act occurred," Spina said. "From what I know, intent, in this case, on the other hand, would have to be shown by circumstantial evidence.
"Prosecutorial decisions are discretionary with law enforcement and prosecutors. It has been said that criminal law is an 'island of technicalities in a sea of discretion.'"