Buzz Williams reveals what makes Brandon Miller special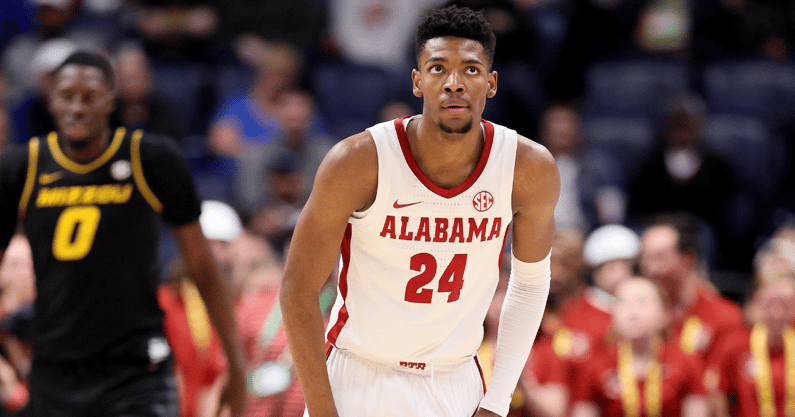 Buzz Williams got a good look at Brandon Miller over the past week, facing off against the Alabama freshman phenom twice. Once was during the regular season finale in College Station, while Miller showed his true colors against Texas A&M in the SEC Tournament championship.
One of the best players in the country, Williams knows Miller is a special one. He broke down exactly why the 6-9 forward is a "mismatch nightmare" on both ends of the court. In what has been an impressive stretch from Miller, nobody has seen it up in person more than the Aggies' headman.
"His length, his size, his skill," Williams said. "Can really shoot. He's a mismatch nightmare. Who's going to guard him? He can pass, dribble and shoot. He's a positionless player that has size. He has that same versatility on that other end."
In the two games against Texas A&M, Miller averaged 21 points and 11 rebounds. Both were double-double efforts but more likely important to him — the latter resulted in cutting down the nets in Nashville. Even through all of the off-the-court issues, Miller has shown why he is highly thought of by coaches such as Williams.
Miller is getting serious consideration at No. 2 overall in the upcoming NBA Draft as well. Scoot Henderson has long been thought to be the pick. However, because of the attributes Williams described, NBA teams might want to select Miller closer to the top.
Buzz Williams explains ball screen situations against Brandon Miller
Alabama continually put Miller in pick-and-roll situations, mainly with the ball in his hands. There are a few times Miller will be the screener before flaring out for a potential shot. Williams explained Texas A&M was in trouble every single time Miller was involved offensively.
"You're going to be in a quandary no matter what your ball screen coverage is, no matter what the matchup is," Williams said. "Really, really, really good player."
Miller will be hoping to continue his great play heading into the NCAA Tournament. Alabama earned the No. 1 overall spot, facing off against Texas A&M-CC on Thursday. They will be serious favorites to be the final team standing in Houston.
If they are even going to reach the Final Four, Miller will have to put on similar performances to those against Texas A&M. Having the best player on the court goes a long way in March — even for one-seeds.