Joel Klatt breaks down Alabama's chances of making College Football Playoff with two losses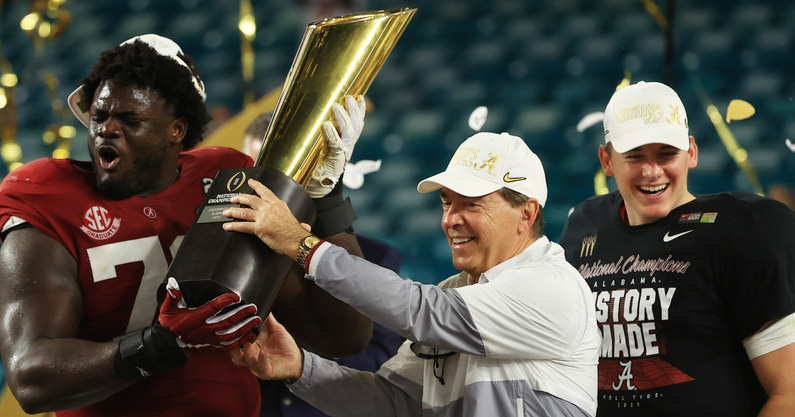 The Alabama Crimson Tide have been a mainstay in the College Football Playoff committee's rankings so far this season, having slotted in at No. 2 for the first couple iterations and only dropping down to No. 3 following Ohio State's huge victory over Michigan State.
Alabama has not dropped out of the College Football Playoff top four, and that's all despite the Crimson Tide having lost one game earlier this year to the Texas A&M Aggies. However, despite their apparent guarantee to be included on the higher end of the committee's rankings, there's no guarantee that the Crimson Tide make it that far — despite their resume to date.
FiveThirtyEight, a statistics and analytics website, projects that Alabama has a 41 percent chance of winning the SEC conference title, which would require defeating Georgia in the conference championship; it also predicts that Alabama has a 58 percent chance of making the College Football Playoff — just two percent higher than Cincinnati's 56 percent chance.
FOX Sports analyst Joel Klatt seemed to disagree with the numbers, implying that Alabama has a near guarantee to make the College Football Playoff. Alabama has two games left on schedule: a regular-season finale in the Iron Bowl at Auburn, followed by the SEC Championship game against Georgia. And Klatt said on The Herd that there's actually a route for Alabama to make it to the playoff even if it suffers its second loss of the year.
"If Alabama loses the Iron Bowl but beats Georgia — I'm just saying, that's plausible — they could be a two-loss [team]," Klatt said, which was met by Colin Cowherd shrugging it off as an impossible scenario. "But they would be the SEC champ, so they would go [to the College Football Playoff].
"There is an avenue [for Alabama to make the College Football Playoff] even if they were to lose one of their next two games."
Klatt argues that Alabama can afford to lose against Auburn and still make it to the playoff so long as it beats Georgia. However, the situation he didn't quite exhaust — and the one that seems far more likely — is the possibility in which Alabama beats Auburn, then loses to Georgia in the SEC Championship. Would Alabama, as a two-loss, non-SEC champion, still make it to the College Football Playoff?
No team has made it to the College Football Playoff as a two-loss team since the inception of the postseason format in 2014, but Alabama would have a heck of a case. The Crimson Tide have beaten Ole Miss, Texas A&M, Mississippi State and Arkansas — four teams that have appeared in the College Football Playoff top 25 at least once this year — plus one more victory against Georgia or Auburn.