Henry To'oTo'o recalls Will Anderson's reaction to pick six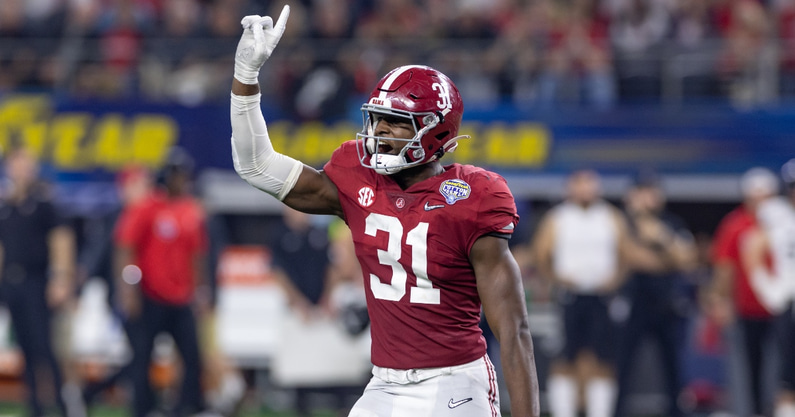 Will Anderson wasn't leaving Tuscaloosa without scoring a touchdown – and was able to check that off the Alabama bucket list before inevitably taking the next step this offseason, scoring a 32-yard pick-six against ULM last Saturday.
The score put the Crimson Tide on top 14-0, and was just the beginning of what would turn to be an eight-touchdown victory for Alabama. Anderson has gone on to say that the interception return for a touchdown was one of his greatest plays in an Alabama uniform, and his teammates agree.
"I'm definitely super proud of him," fellow linebacker Henry To'oTo' o said. "We we prepared really well and he knew the play that was coming so that was definitely a huge play for us to gain momentum and push through the whole four quarters that we had. So, definitely a happy moment for us."
Statistically, To'oTo'o has almost identical stats that Anderson has through three games this season, notching 17 total tackles compared to Anderson's 15. Anderson edges To'oTo'o 2-1 in sacks, and Anderson's pick-six speaks for itself.
Anderson is no stranger to making plays, they just usually come in the form of sacks and tackles for loss. His first career touchdown came after as he high-pointed a tipped screen pass and broke a tackle on his way to the end zone for a 32-yard score.
The talented Alabama edge defender is a household name in college football at this point. Already a national champion (2020), an SEC Defensive Player of the Year (2021), a unanimous All-American (2021) and the Bronko Nagurski Trophy winner (2021), he's a virtual lock in the first round of the 2023 NFL Draft.
Even better for Anderson? He still has three quarters of his junior year left in Tuscaloosa to build his legacy even further and cementing himself as one of the best linebackers of the Nick Saban era, if he isn't there already.