Houston Texans place former Alabama receiver John Metchie on non-football illness list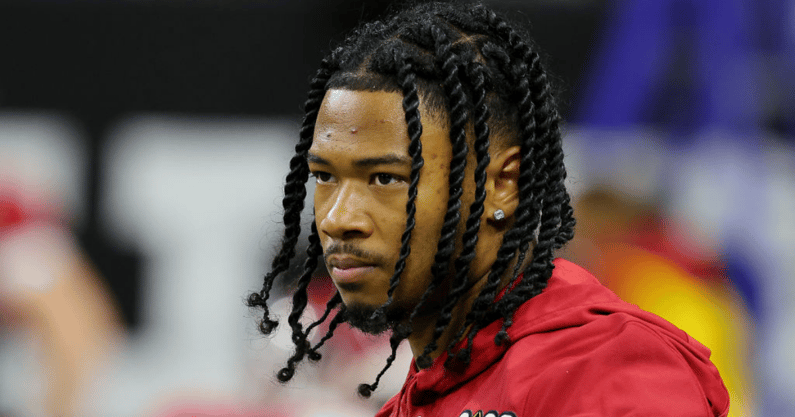 The Houston Texans announced on Tuesday that they have placed rookie wide receiver John Metchie III on the Reserve/Non-Football Illness List. Metchie, who the Texans drafted out of Alabama, recently announced that he'd miss the 2022 season while he was treated for a form of leukemia.
Tuesday's roster move to put Metchie on reserve for a non-football illness comes NFL teams hit the second of three roster cut deadlines. By 4 p.m. on Aug. 23, teams needed to get their roster to 80 players. By designating Metchie for the non-football illness list, the Texans open up a roster spot.
As such, Metchie will not be eligible to practice until Week 7, though that is likely not a concern as he's already announced he'll miss this season in its entirety.
Metchie, who the Texans took from Alabama with the 44th overall pick in the 2022 NFL Draft, was expected to contribute for Houston prior to his announcement.
Metchie has a common, treatable type of leukemia, and is expected to recover
In a statement posted on Twitter in late July, Metchie revealed that he has been diagnosed with APL, a form of Leukemia.
"Recently I was diagnosed with APL (Acute Promyelocytic Leukemia), the most curable form of Leukemia," Metchie wrote in a statement. "I am currently receiving great medical care, am in good spirits and I expect to make a recovery at a later point in time."
Unfortunately, this news will result in Metchie missing his rookie season in the NFL. Instead, he will shift his attention towards his recovery, and he plans on coming back even stronger in the future.
"As a result of this diagnosis, I will likely not be playing football this season," added Metchie. "My main focus will be on my health and recovery. Thank you in advance for you support and well-wishes. I cannot wait to come back stronger than ever. God bless."