How Jameson Williams, Alabama receivers created karate celebrations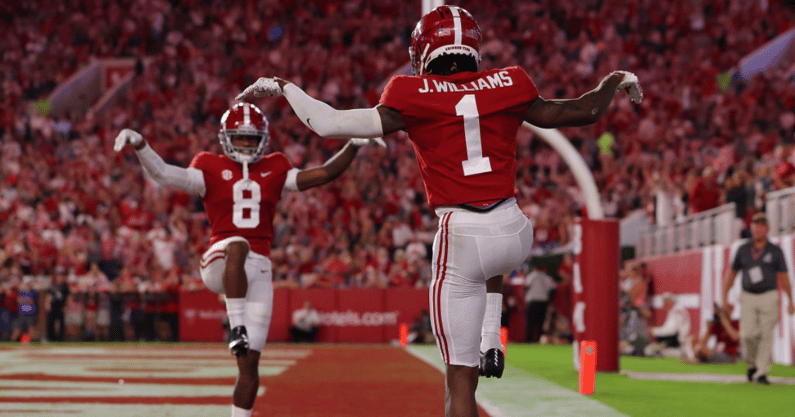 First-year Alabama wide receiver has already been to the endzone plenty since transferring from Ohio State this offseason, allowing him to perfect his new karate celebration. The junior from St. Louis, Missouri provides the Crimson Tide with a dynamic threat on offense and special teams, complementing the other wide receivers.
Williams, along with Alabama's top returning receiver John Metchie III have establishing a new touchdown routine which spread across the wide receiver room. After catching the ball or crossing the goal line for a touchdown, they will strike a karate pose surrounded by teammates.
The origins of the karate celebration were unknown, but Williams took time to explain after Alabama's 42-21 win over Ole Miss.
"It was kind of the week of – and like I said, I don't know why it was karate – it was just something we came up with." Williams said during Saturday's postgame press conference. "But it's just been going since then."
The karate celebration after each touchdown might not bring special meaning, but it offers a nice cap to each drive.
Jameson Williams has 17 receptions for 364 yards and three touchdowns over the first five games, adding two return touchdowns against Southern Miss. John Metchie III has 27 catches for 275 yards and two touchdowns so far this season.
Jameson Williams on transferring to Alabama
Earlier this season, Jameson Williams spoke about his decision to transfer to Alabama, detailing his comfort with the program.
"I was real comfortable coming to Alabama," said Williams. "It's a great environment, I loved the environment, everything — I feel like I fit in well. With my mindset and the mindset of the guys I play with, my brothers. So I felt real comfortable."
Williams didn't just join Alabama, he joined an Alabama receiving corps that's been home to greatness over recent seasons. From Jerry Jeudy to Jaylen Waddle and DeVonta Smith, the standard has been set for Williams.
"I feel like I'm a part of those guys when I committed to Alabama out of the transfer portal," said Williams. "Once you're Bama family, you're family."
Williams is endearing himself to his teammates and former Alabama players, and he'll continue to do so with big plays like he made on Saturday.
When asked about his chemistry with Alabama quarterback Bryce Young, Williams mentioned that things were simple.
"I would say it happened fast. It didn't take a lot of time. When you trying to do certain things, you get going with things," said Williams. "I feel like me and the guys fit in well, we became brothers quick. First day I got here, we all linked up, everybody showed me love. Everybody showed me love when they seen I committed to Bama on Instagram."