Jaden Shackelford explains how Alabama must regroup for NCAA Tournament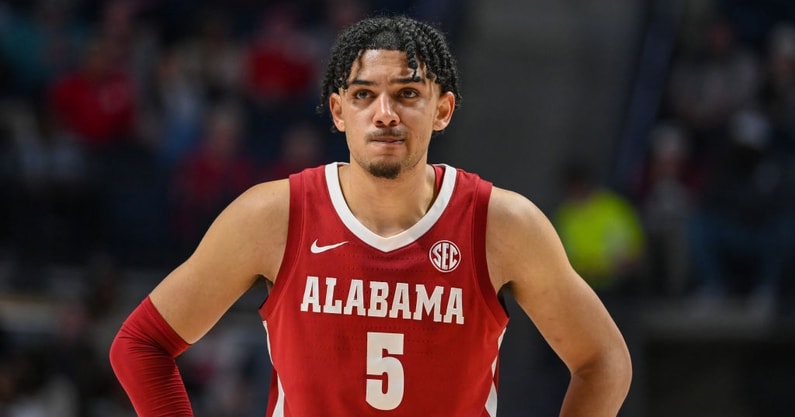 Instead of playing more games in Tampa at the SEC Tournament, Alabama headed home early after losing to Vanderbilt on Thursday. Now, the Crimson Tide have to wait and see where they fall on Selection Sunday.
They also have to regroup, and Jaden Shackelford opened up about how the players will do that while waiting to find out where they'll play in the NCAA Tournament.
"Just staying together," Shackelford said. "That's the number one thing for us. Knowing that we're going to go on that floor and battle with each other one more time, hopefully more than once.
"I feel like it's just staying together, staying locked in. There's more out there for us, and we're capable of doing a lot of good things in March."
Alabama's more than likely in the field and won't have to worry about the bubble. On3's Saturday Bracketology put the Crimson Tide as a No. 6 seed in the tournament field, as did ESPN's Joe Lunardi. The Crimson Tide enter the NCAA Tournament with a 19-13 overall record and a 9-9 mark in SEC action.
Nate Oats: Alabama has to reset mindset ahead of NCAA Tournament
Alabama's run in the SEC Tournament was shorter than expected. The Crimson Tide lost in the second round on Thursday, falling 82-76 to Vanderbilt.
Now, Alabama head coach Nate Oats is shifting all of his attention toward the NCAA Tournament.
Oats had an interesting comment following Alabama's loss in the SEC Tournament to Vanderbilt, saying that Alabama can beat anybody, while also acknowledging that the Crimson Tide can also lose to just about anybody.
"We've proven we can play with anybody in the country. We've also proven we can lose to anybody on our schedule," Oats said after Alabama's loss in the SEC Tournament. "So we got to get guys' mindsets in a good spot. We're going to play a week from today or a week from tomorrow, whichever we end up at. And we've got to have a great week of preparation going into it, and see if we can't — you know, we were close tonight. We make some free-throws, you know, we win the game. We take care of the ball."
As the remaining teams in the SEC fight for the tournament crown, Alabama is going home to prepare for the NCAA Tournament. One of the most frustrating parts to Oats from the loss to Vanderbilt was his team's turnovers.
"I mean, some of the turnovers are just mind-blowing," Oats said. "Just kind of handing the ball to the other team. Just mis-dribbled by some pretty skilled players. Definitely stuff we can fix. We have to fix it and see if we can't get on a similar run to what some other teams have done in the past."