Jahleel Billingsley takes to Twitter on Alabama depth chart release, deletes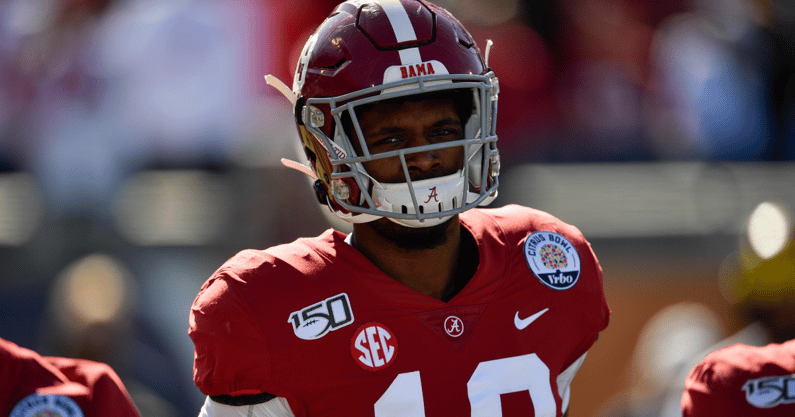 In a tweet that has since been deleted, Alabama tight end Jahleel Billingsley vented his frustrations with the recently released Crimson Tide depth chart. Nick Saban released the Week 1 depth chart Monday, and Billingsley was listed third behind Cameron Latu and Major Tennison.
In the tweet, Billingsley said this: "Come on now I'm the 3rd option
"
Jahleel Billingsley finished last season with 14 catches. But the junior has showed this fall that he has room to grow.
The tight end missed the beginning parts of camp in COVID-19 protocol as the coaching staff had to go through some steps with him. And on Aug. 11 was when Saban said Billingsley had to work his way back up the depth chart.
"He does have a lot of ability, he can be a positive contributor on the team," Saban said, "but he's also got to buy into the principles and values of the team and be a good teammate and do the things that everyone else in the organization does so that he has the respect of his teammates. We're certainly trying to help him do that, and hopefully, he'll be back out there with us in a few days. We'll see how that all develops."
Saban sends clear message
Nick Saban has made his message clear. The Alabama coach did not hold back last Saturday when asked if tight end Jahleel Billingsley has worked his way up back up the depth chart after missing parts of fall camp. Saban pointed out Billingsley's commitment to Alabama's earlier this month.
But after the Crimson Tide's second scrimmage, Saban did not mince his words.
"That's up to him," he said. "That's not up to me. He knows what he is supposed to do in practice. He knows what he is supposed to do. This is not a democracy. Everybody doesn't get to do what they want to do. Everybody doesn't get to do what they feel like doing. You've got to buy in and do what you're supposed to do to be a part of the team and do the things you need to do in practice every day." 
Saban also pointed out the commitment to Alabama and football is not all about playing the game. The time away from the bright lights matters, too.
"Everybody thinks it's just about playing in a game," Saban said. "It's not just about playing in a game. They watch practice film, they watch guys every day."
On3.com's Pete Nakos contributed to this report.