Joel Klatt gives hot take on Jameson Williams' injury, Alabama's chances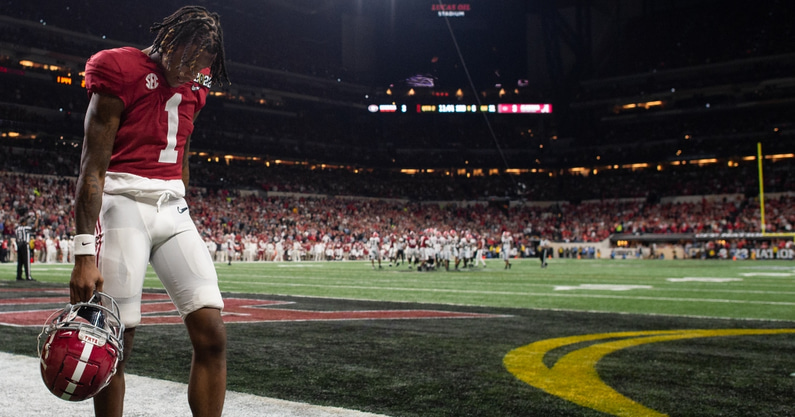 Joel Klatt brought the fire regarding the injury to Jameson Williams in the 2022 College Football Playoff National Championship. According to Klatt, it was trending towards an Alabama victory prior to the injury Williams suffered.
After the game, Klatt joined The Herd with Colin Cowherd to explain his thoughts.
"It was trending in that direction," Klatt responded, as Colin Cowherd stated Alabama would've won if Williams didn't get hurt. "Alabama was executing at a level that was going to allow them to win the game when he was still available.
"I think he had four catches, 64 (yards) if I'm not mistaken, and it's still early in the game when he gets hurt. It was pretty clear Georgia didn't have an answer anymore. He was well on his way to 150, 175 yards receiving. Maybe even 200 yards receiving."
Georgia had no answer for Williams in the SEC Championship, as the star wide receiver reeled in seven receptions for 184 yards and two touchdowns. If he didn't tear his ACL, perhaps he was on his way to a sequel.
Klatt: 'The young wide receivers failed miserably in their execution.'
Furthermore, Klatt panned the young wide receivers for not stepping up in Williams' stead.
"To me, you have to go in order," started Klatt. "Georgia's got the better team overall — but they don't have the best quarterback. So, they're going to win the line of scrimmage, they've got more margin for error. They've got speed, they've got power, they've got a great roster. There's no doubt about that. So what Alabama was going to have to do was exactly what they needed to do and did in the SEC Championship Game, which was execute in the passing game. Allow Bryce Young to execute in the passing game. Protect him enough to get wide receivers open so they can make plays in the back end.
"When Williams left the game, they didn't have that. The young wide receivers failed miserably in their execution. They were not helping Bryce Young out at all, and Georgia took advantage of that. At that point – if you're just going down the list – what did Alabama need to do to win? Well, they didn't have the best roster so they got to execute in the passing game. Now they lose their best player, so you got to get really creative in your play-calling, and in your play-design, in order to get guys like Slade Bolden and Brian Robinson the ball in places where they can produce. Because they're now your most reliant players. That didn't happen. Bill O'Brien really struggled as an offensive play-caller for Alabama."
It's tough to poke holes in the argument made by Joel Klatt. The loss will sting Alabama faithful for a long time, wondering what could've been.