Will Anderson describes what it is like going against Evan Neal in practice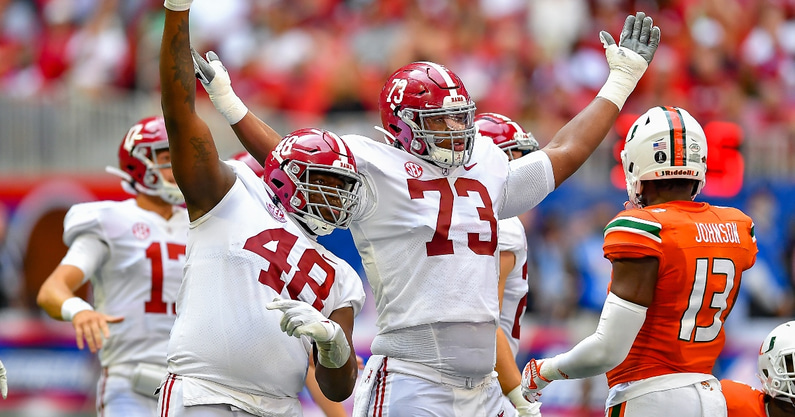 One of the biggest perks of going to Alabama is the ability to practice against top-notch talent day after day. 
Linebacker Will Anderson and offensive tackle Evan Neal are two of those premier talents. 
On Monday, Anderson took to the podium with no shortage of things to say about his teammate whom he gets to see on the field each practice.
"That is a 20 year old, myself, going against an NFL tackle every day in practice," Anderson said of Neal with a huge grin. "He is strong, he's a big man, he takes up a lot of space. He has a nice first step. He gets from point A to point B very fast. He's great at run blocking. And that is definitely iron sharpens iron every day."
Another product Alabama has plucked out of Florida, the 6-foot-7, 360-pound tackle was a five-star recruit out of IMG Academy and the nation's top offensive line prospect. He began starting at guard as a freshman, and he has been critical to Alabama's offensive success since.
"I think he's the best tackle in college football," Anderson said.
Neal has been widely cited as the top offensive line prospect for this year's NFL Draft. In 350 pass attempts this season, he has allowed just 1.5 sacks and 5.5 pressures, per the Alabama website. He leads the Crimson Tide with 20 knockdown blocks. 
Both players have had spectacular seasons, leading the Crimson Tide to a 10-1 record and posting impressive individual performances. Neal is a finalist for the Outland Trophy, given to the nation's best lineman. 
Anderson, a former five-star recruit himself from one state north in Georgia, is one of four players to be named a Chuck Bednarik Award finalist. The honor goes to the country's best defensive player. 
Neal and Anderson will look to close out Alabama's season with a win against Auburn at Jordan-Hare Stadium this weekend. The defense will try to keep explosive Tigers running back Tank Bigsby under wraps, while the offense will look to protect quarterback Bryce Young against an Auburn defense allowing an average passer rating of 141.9. That mark is nearly last in the SEC, ahead only of Vanderbilt. Young boasts the second-best quarterback rating in the Power Five, trailing Ohio State's C.J. Stroud by less than one point.
Alabama is a 19.5-point favorite for the 3:30 p.m. ET game on CBS.