Montana Fouts wins 2022 Division I All-American honors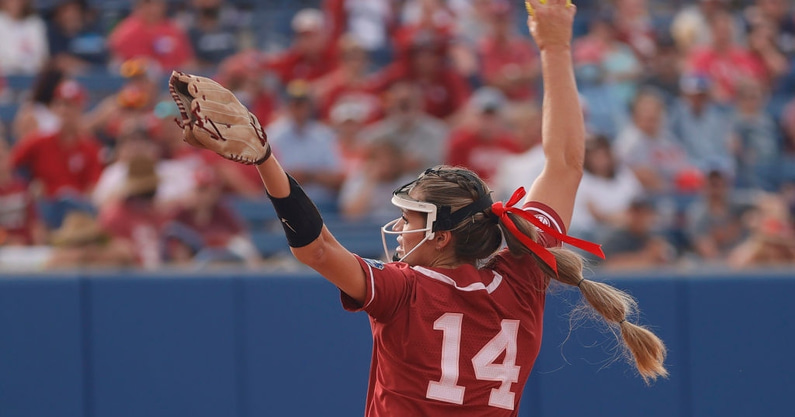 Alabama senior softball pitcher Montana Fouts earned another major award, becoming an All-American for the third time in her career. Fouts was named to the 2022 Division I All-America Second Team this year, becoming the 10th player in Alabama's history to win three All-American honors.
Montana Fouts named All-American again
This season, Fouts went 24-8 on the year with a 2.10 ERA and led the SEC with 275 strikeouts. She earned first-team all-SEC honors, and was named SEC pitcher of the week four times.
"The National Fastpitch Coaches Association announced its 2022 Division I All-America teams Wednesday, with Alabama pitcher Montana Fouts earning a spot on the Second Team," read Alabama's official release on the award.
"The honor is the third of Fouts' career, previously earning Second Team accolades in 2019 and First Team in 2021. She is the 10th player in program history to earn at least three All-America awards. Alabama players have combined to win 61 All-America accolades in the program's 26-year history.
"Fouts earned First Team All-SEC accolades this season and was a top-25 finalist for the USA Softball Collegiate Player of the Year award. She earned four SEC Pitcher of the Week awards, the most weekly awards of any league player, and led the SEC in strikeouts both overall and in SEC play. She had 14 double-digit strikeout performances, including a career-high 16 against South Carolina on March 27."
Fouts has already announced that she will be returning to Alabama for a fifth season and take advantage of her extra year of eligibility granted by the NCAA after the COVID-19 impacted season. If she continues to dominate the way she has, Fouts could be celebrated as a four-time All-American by this time next year.
Although the Crimson Tide earned a spot as a regional host for the NCAA Tournament, their season ended prematurely as Stanford qualified out of the Tuscaloosa region. Fouts pitched in all six postseason games for Alabama this year.