Nate Oats praises the offensive contributions in opening round from Mark Sears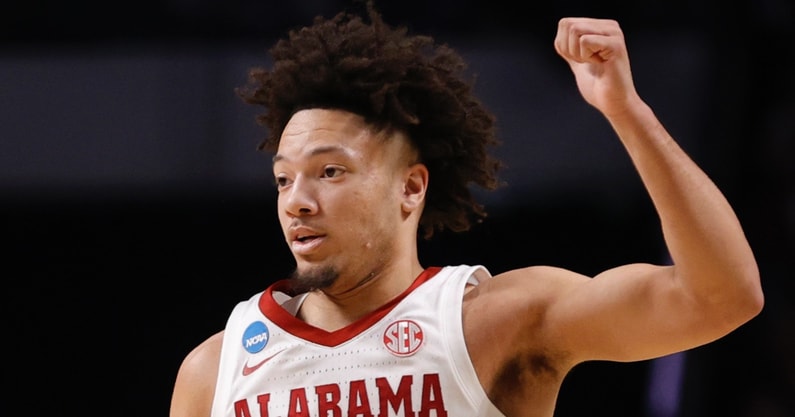 Alabama steamrolled Texas A&M-CC Thursday afternoon thanks to a complete team effort from head coach Nate Oats' group. He praised junior guard Mark Sears, who Oats says doesn't get enough credit, for his efforts on both sides of the floor.
"After the timeout in the second half, he came out and I thought his effort was really good. We're going to have him out there because we know he can score. Other teams know he's capable of scoring at a high level. Teams can't sag him," Oats said postgame. "He's going to give spacing on the floor. So to have him go ahead and make a lot of shots certainly helps because he can be on the floor. I was really happy to see those ones going in.
"He finished 3-of-4 from three. He's capable — all of our players expect all their shots to go in. The way he shot it all summer and in the fall, he didn't miss any open threes. I was happy to see that. Hopefully, he gets his confidence going and we'll see more of the same in the Second Round."
Sears finished the game with 15 points, including the three trey's Oats mentioned above. Even more impressive, he did that in just 21 minutes on the court thanks to Alabama's second-half lead and went on to assist on three baskets. Sears was the only starter Oats played more than 20 minutes in the game.
It's not as if Sears' performance is particularly surprising. He's fallen under the radar this season playing in the shadow of future NBA star Brandon Miller. Despite this, Oats says Sears' contributions directly influence games and have been a big part in helping the Crimson Tide amass a 30-5 record on the season thus far.
"He's been our second-leading scorer all year. Even when he was struggling we continued to play him heavy minutes because I think he adds a lot to the team, even when he's not making shots," Oats said. "He's tough, he's had games where he's been one of the scrappiest, toughest, perimeter defenders out there. He adds that to the mix. I thought he played really hard there."
With Sears looking for another standout performance, Alabama will take on Maryland at 9:40 p.m. ET to cap off Saturday's Round of 32 action. Alabama is a 9-point favorite as of this report, and you can check out the full list of point spreads and odds for March Madness' Saturday slate here.
The winner will play San Diego State in the Sweet 16 next week.