Nick Saban uses compliment to freshman to rant on special teams play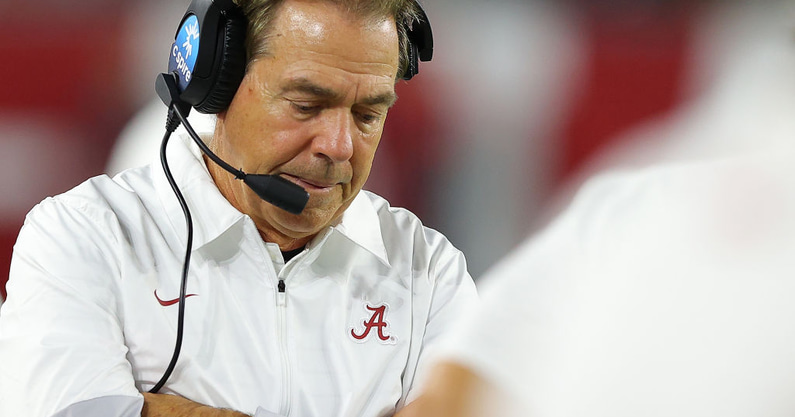 Nick Saban is in rare form this week. It's been a long time since we've seen the Alabama coach sharing blunt insight into exactly what needs to change and who needs to step up following a loss but here we are.
In his Wednesday presser, a reporter asked about Ja'Cory Brooks and the impressive blocked punt . He then added what it means for Alabama to battle on special teams with young players growing along the way.
"Yeah he's been one of the real positives on special teams," Saban said. "It's great that he realizes the importance of learning how to play on special teams.
"A lot of other guys don't take it serious but he's done an outstanding job on teams. He loves to play, he's a good competitor," the Crimson Tide coach said of the true freshman.
Nick Saban has an old-school "earn it" special teams philosophy
After praising Brooks and alluding to other young players–seemingly a bevy of top-rated recruits who played both sides of the ball and broke records just a year ago in high school — aren't showing the desire and will that Brooks has.
"And we need more guys like him able to contribute," Nick Saban continued.
"We need more of our young guys to be playing on special teams, so a lot of the older guys who are playing more plays in the game, don't have to play. Because those guys are really good special teamers.
"You know Josh Jobe is a really good special teams player. Jordan Battle is a really good special teams player. You know B-Rob [Bian Robinson], very good special teams player. Well, they served their time and they are playing a greater role to help us so we need other guys to understand.. Oh, and all of those guys learned to do it when they were freshmen…so JaCory Brooks has done an outstanding job of that. We have several other freshman who have competed well on special teams but we need more of it."
Nick Saban doesn't play around when it comes to special teams.