Nick Saban rules out defensive starter vs. Mississippi State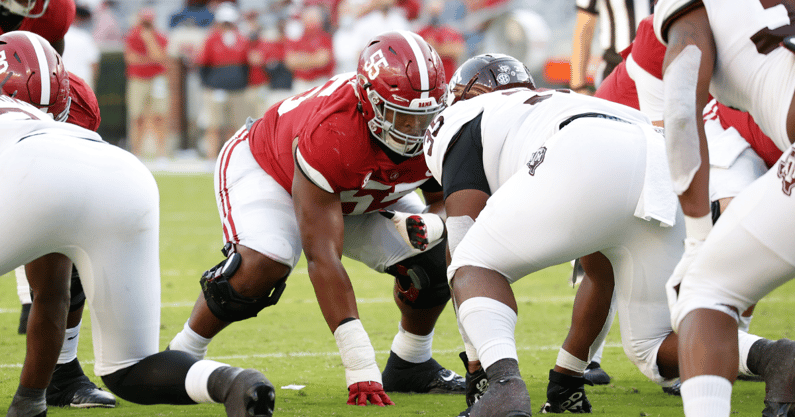 Nick Saban and the Alabama Crimson Tide have faced injury concerns like every other program this season, but the most significant losses have come on defense.
Saban's defense has been widely criticized throughout the season — even with injuries — depth shouldn't be a concern for a program laced with the best talent college football has to offer.
On Wednesday, Saban announced Alabama would once again be without one of their starting linebackers when the Tide play Mississippi State on Saturday.
"Outside linebacker Drew Sanders won't be available for the Mississippi State SEC matchup, Nick Saban said Wednesday.
Sanders had been starting for Alabama on the edge since the second game of the season. Starter Christopher Allen suffered a foot injury in the first game against Miami. 
"He's out there in pads every day, but it's not safe for him to use his hand yet, so he's not going to play," Saban added.  
The sophomore linebacker missed the Texas A&M game after suffering a hand injury that required surgery
In the five games, he's played this season, the true sophomore has flashed at a position where the Crimson Tide need help. Though Sanders mainly saw the field in special teams situations in 2020, he has tallied 20 total tackles, one tackle for loss, broken up two passes while registered four quarterback hits when starting at linebacker this year.
Chris Braswell and Dallas Turner have been the next players on the field at outside linebacker behind Will Anderson and Sanders. They're expected to fill the spot opposite Anderson during Sanders' absence. 
Ahead of last week's game as the Tide prepped for Texas A&M, the Alabama coach was vague on when exactly Sanders would be available.
"It was little maybe worse than we thought," Nick Saban said ahead of the loss to the Aggies. "He is going to be game-to-game here for a few weeks. We'll just have to see how it goes." 
Paul Finebaum rips Nick Saban and coaching staff after loss
Paul Finebaum is always high on Alabama, and while there are conflicting opinions on if Saban and company will miss the College Football Playoff, the longtime ESPN SEC guru didn't mince his words.
While Finebaum is just a reporter who watches and evaluates, it's staggering to hear such strong comments from an analyst who is constantly criticized for always praising the Tide, year after year, even with the few mishaps and losses in major moments.
Not this time.
In an unprecedented rant after Alabama was stunned by Jimbo Fisher's Aggies, Finebaum blamed Nick Saban and the entire Tide coaching staff for the loss.
The ESPN SEC expert called Alabama's defense "disgraceful" and offensive play-calling "inexplicable" on Sunday, a day after the No. 1-ranked Crimson Tide was upset by Texas A&M 41-38 in College Station.
The full rant focused on the entire staff, but with yet another defensive injury with an opponent similar to Texas A&M next on the docket, Finebaum's assessment of the Crimson Tide defensive coordinator was the worst of all.
"And the defensive coordinator (Pete Golding), I don't know what his buyout is, but you better look at it this morning. The defensive performance last night was disgraceful."
Alabama better find a way to take care of business on Saturday, or Tuscaloosa may erupt in a bad way.