Nick Saban assesses Bryce Young's progress, big play development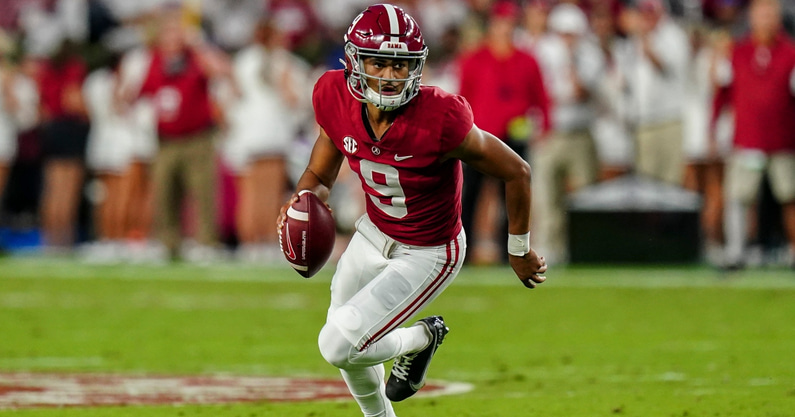 Alabama head coach Nick Saban is happy with the progress he has seen this season from quarterback Bryce Young. Young has played himself into being a leading contender for the Heisman Trophy in his first year as Alabama's starting quarterback. Saban called his quarterback competitive, and that his improvement throughout the year has been notable.
"Bryce is a really competitive guy who really works hard," Saban said of Young. "He wants to get it right. Always works hard at preparing the right way. He's a pretty consistent performer in practice each and every day. Uses every opportunity to try to get better. Never been disappointed in the way he played from the first game right up until now.
"But he has improved and I think his confidence and experience and playing with the new players that we have on offense, all those things have contributed to that development. Hopefully we're going to continue to do that as we go through each and every one of these games to finish the season."
Saban is trying to work on Young's deep ball on Alabama's offense
On the season, Young has completed 70 percent of his pass attempts for 2,453 yards, 26 touchdowns, and three interceptions. He also has 40 yards rushing and two scores on the ground. As Young continues to develop, the potential of the deep ball could become yet another dangerous element of his game, and Saban thinks it could help evolve Alabama's offense.
"I think that's something that we want to continue to work on," Saban said of Young's ability to throw the deep ball. "We've connected on a few, we missed a few that were decent throws and we've overthrown a few. So that's something that we continue to work on. I think we have some capabilities to make explosive plays. We made a lot of explosive plays this year. Not all of them have been deep balls. I think we got to take what the defense gives.
"But I do think that's one of the things that we have improved on is our ability to throw the deep ball. It's a work in progress that we need to continue to work on."
Alabama has scored at least 38 points in all but one game this season. The Crimson Tide enter Week 10's matchup with LSU with a 7-1 overall record, including a 4-1 mark against SEC opponents. If Saban can continue to help Young evolve his big play potential down the field, Alabama's offense could be even tougher to stop moving forward.