Nick Saban calls out Jimbo Fisher, Texas A&M for NIL recruiting methods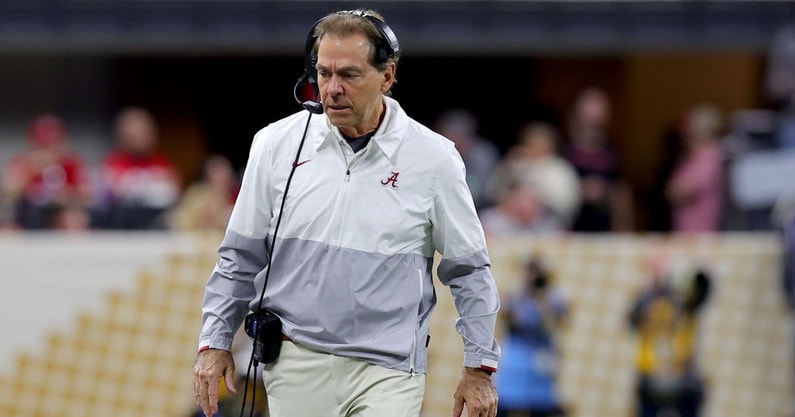 Alabama head coach Nick Saban provided harsh criticism of recruiting efforts by Texas A&M and coach Jimbo Fisher versus those of the Crimson Tide. While speaking at an event celebrating the 50-day countdown to the World Games in Birmingham, Saban reportedly claimed that Texas A&M "bought every player on their team" with NIL deals.
Nick Saban on Texas A&M recruiting
"I know the consequence is going to be difficult for the people who are spending tons of money to get players," Saban said via AL.com. "You read about it, you know who they are. We were second in recruiting last year. A&M was first. A&M bought every player on their team. Made a deal for name, image and likeness.
"We didn't buy one player. Aight? But I don't know if we're going to be able to sustain that in the future, because more and more people are doing it. It's tough."
Saban has been one of the most vocal opponents of the direction college football recruiting has moved since Name, Image and Likeness deals were allowed by the NCAA. While Saban maintains that he approves of the system as it enables players to make money on their work, he continues to disapprove of colleges using money as a recruiting tool.
However, Saban's comments prior to Wednesday have always been focused on the sport as a whole and haven't seemed to be directed towards any school in particular — even as USC recently entered into a controversy with their alleged tampering of transfer receiver Jordan Addison from Pitt.
Saban's comments on Wednesday were very clear — simultaneously criticizing the Aggies and Fisher while flaunting Alabama's success by doing things the "right way." His comments also seem to indicate that if the NCAA or the SEC do not change the current rules for NIL and recruiting, Saban feels that Alabama may need to change their recruiting methods as well.