Nick Saban compares improving as a player to blowing up a balloon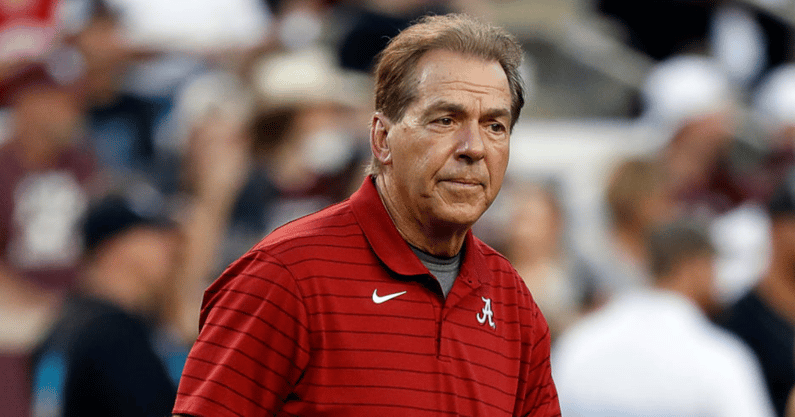 Alabama head coach Nick Saban provided a unique analogy for player development this week, comparing the process to blowing up a balloon. While each player's situation is different, he provided a basic set of key principles which lead to success.
"It's like blowing up a balloon," Nick Saban told the media during his Wednesday press conference. "The first time you blow it up, it's really, really tough but then – let the air out of it – it blows up to that point pretty easily. But then when you try to take it beyond that it gets very difficult again.
He continued: "So it's the same thing with how you sustain, how you focus, how you finish. You develop a greater capacity to do it, so then it becomes easier. But when you give in to it, it never becomes easier."
The analogy brings an incredibly complex situation into context for anyone who has sat down with a balloon and wasted time blowing it up repeatedly. Repetition makes the process easier, but as Saban points out, it also takes mental strength.
"I think it starts with your mindset," said Saban. "You're going to do what you feel like doing or choose to do the things you need to do to push through difficult circumstances or difficult times and stay focused. And when you do that, then you develop a greater capacity to do it. So it starts out mindset, but then you become physically more able and capable to sustain because you've had the mental toughness to be able to push yourself to the next level."
There is no better authority on player development than Nick Saban, who has produced over 100 NFL draft picks, including 38 first-round picks.
Saban on the 'competitive fire'
Nick Saban knows a thing about the "competitive fire" needed to thrive in today's college football landscape. Just days removed from the stunning loss to an unranked SEC rival, he was asked directly about the competitive fire needed to win consistently.
"I've always got competitive fire because I respect what it takes to win, I respect what it takes to prepare to win," Saban said emphatically. "I try to do it every week and I try to get the players to respond to it each and every week so they have the best chance to create value for themselves when they go out and play."
"And when players don't play well, they don't create value for themselves and they don't create value for the team," Saban added.