Nick Saban's message after loss: 'You've got to respond from the edge of the cliff'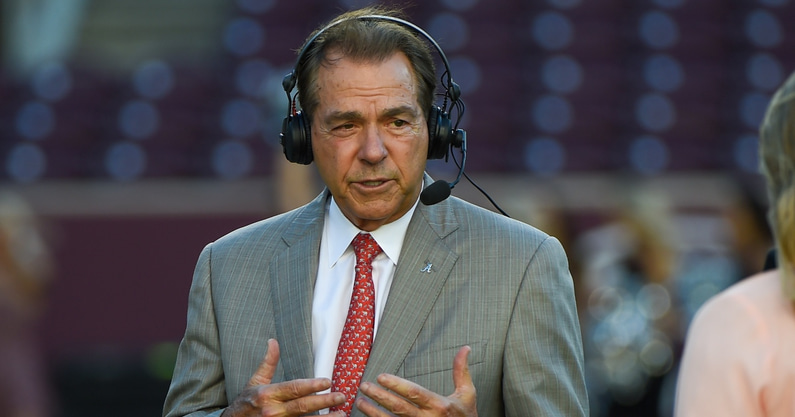 Alabama has been preparing for a game under unusual circumstances this week. Saban's team has to take the field on Saturday against Mississippi State coming off of a regular season loss.
On Wednesday's SEC coaches teleconference, Saban discussed how his team is currently faring in Tuscaloosa.
"Sometimes you want to remember the feeling you get when you don't have success," Saban said. "It's probably human nature for all of us to respond a little better when negative things happen than when positive things happen sometimes. So the response has been good so far, but we gotta carry that over day in and day out, game in and game out. We'll see if we're capable of doing that."
Freshmen and sophomores are in completely new territory, as Alabama went undefeated last season and the Crimson Tide had won every game this year until they fell to Texas A&M on Saturday night.
"Like I told them yesterday, you got to respond from the edge of the cliff," Saban added. "You don't have a lot of room for error. You still can accomplish all the goals that you have as a team, but we're going to have to play better more consistently if we're going to be able to do that, and that means we have to prepare better, practice better, be more engaged in the game.
"The opponent is basically faceless, in terms of the way you should look at your performance. It's not about the other guy. It's about how you want to play and how good you want to be, and that's how you should prepare and play every week."
Alabama has not lost back-to-back regular season games since Saban's first year in Tuscaloosa in 2007, so the odds are not in Mississippi State head coach Mike Leach's favor when the Crimson Tide visit Starkville this weekend. 
A two-loss team has yet to make the College Football Playoff, although in a year that has already proved to be ripe with chaos, this could be the year. Regardless, Saban does not want to tempt fate and see what happens if his team falls another time before the CFP selections are revealed on Dec. 5.
"Every team responds differently," Saban said when asked a follow up question about having lost a regular season game on the way to a national title before. "We've also taken a loss and not won a championship. It all depends on how you respond. That's up to the individuals on the team, the leadership on the team and how everybody on the team buys into it."
Saban has won six national championships at Alabama, and four of them came with one regular season defeat. His first title in 2009 and his most recent title last season are the only two seasons in which the Tide have gone undefeated.
Alabama is a 17-point favorite in the game, which will be ESPN's primetime contest on Saturday, kicking off at 7:00 p.m. ET. Saban's team is a 17-point favorite.