Nick Saban opens up on the perception coaches, teams are tampering with NIL, transferring players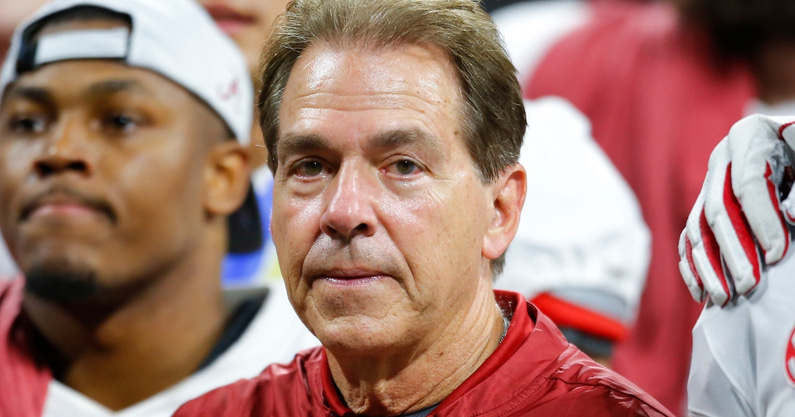 Nick Saban responded to the perception that coaches and teams are tampering with players, using NIL to their advantage and getting athletes from other programs to transfer to different schools. Prior to his round at the Regions Tradition Pro-Am charity tournament at the Greystone Golf and Country Club in Birmingham, Alabama, Saban spoke on the controversial topic.
"I think that it's really hard to control third parties, whether it's direct or indirect, but when you have someone leave your program and go someplace else the day after the game – I don't have any evidence that anything happened, and I'm not making any accusations – but it makes you wonder, I guess," Saban told reporters Wednesday morning. "Hopefully we have enough honestly and integrity out there amongst us professionally in our sport that people are going to abide by the rules."
Evidently, Saban is hoping that coaches and programs abide by the rules, but history shows that it doesn't always workout that way. Additionally, the Alabama coach added that while he doesn't believe anyone's ever tampered with his athletes, certain instances have made his mind race.
"I don't really know that anybody's ever tampered with our players, aight, I just think sometimes when things happen [a certain way] it makes you wonder," Saban continued. "So, I'm not making any accusations against anybody that's done anything with our players, and I don't have any knowledge of anybody that's done anything with anybody else's players."
Nick Saban isn't saying, but he's just saying, if you catch his drift. In the new world that is NIL and the affects it's having on the transfer portal and more, a keen eye will have to be kept on possible tampering in the future.
Nick Saban defiantly rejects tampering criticism involving Louisville transfer Tyler Harrell
Furthermore, Alabama head coach Nick Saban vehemently denied allegations this week that the Crimson Tide staff tampered to acquire transfer wide receiver Tyler Harrell out of Louisville.
"We don't tamper with anybody, so I don't know about anything or anybody that tampered with him," Saban said Wednesday at the Regions Tradition Pro-Am.
To illustrate, Louisville head coach Scott Satterfield implied in an interview with 247Sports that Bama was working on getting the former Cardinals receiver before he entered the portal.
"I think it's not only him, it's happened before here," Satterfield told 247Sports. "Last year, we had a few guys that jumped into the portal and the next day they're announcing where they're going. You can look at that and know that something went on before they were in the portal."
Harrell entered the transfer portal on April 12 and 10 days later, he announced his decision to join Nick Saban at Alabama. Ten days isn't an unusual amount of time for a player to make a choice, however, the same day the wideout entered the portal, Cardinal Authority reported, "the expectation is that Harrell will transfer to Alabama. There have been rumors of him entering the portal since the end of spring ball for Louisville on April 3." The apparent clairvoyance from the media led the Louisville head coach to consider foul play.