Nick Saban praises continued growth of Brian Branch on defense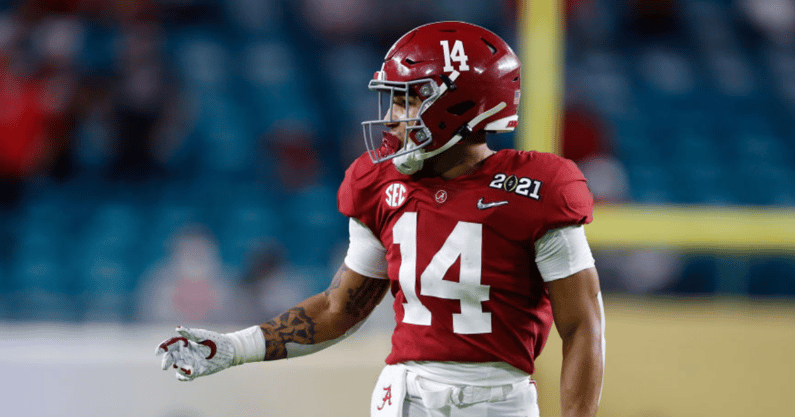 Alabama defensive back Brian Branch saved his best for last. The junior safety was everywhere on the field during the Crimson Tide's lopsided Sugar Bowl victory over Kansas State, accounting for a season-high 12 tackles while also picking off his first and only pass of the year. Of course, the performance was Branch's last in an Alabama uniform, as he's headed off to the NFL Draft now, where he's projected as a possible first-round pick and one of the top safeties in the entire class.
A bright future ahead for the young man. But Alabama head coach Nick Saban was just happy to have him play well in the Kansas State win.
"Brian Branch has played well for us all season long," said Saban right after the Sugar Bowl, complimenting his play on that day in particular. "He made some big plays today. The interception was big. We got off to a great start in the second half with a big play and two scores in the first two minutes in the second half, which kind of broke the game open. His interception was a big part of that."
Branch certainly came to play against the Wildcats and was a titular reason for the Tide turning that game into a blowout in the second half. Saban says that's just who Branch is. He may have had his biggest game against Kansas State, but his performance has been steady and admirable all year long.
"But he's been a very consistent performer for us all year. He plays the star position, but he could play safety as well."
The crazy thing is that Branch didn't even finish the game. He recorded 12 tackles and made the momentum-swinging pick despite being sidelined for cramps later in the game.
"He couldn't finish the game today. He cramped up and we tried to give him an IV. But great competitor. Really good teammate. A guy that always plays hard and gives his best at all times."
Clearly a lot of respect there from Nick Saban towards his veteran defensive back. Unfortunate he wasn't able to pile more tackles on top of his already huge day. Regardless, it was a fitting way for the future pro to end his collegiate career.