Nick Saban reveals what he learned from national championship loss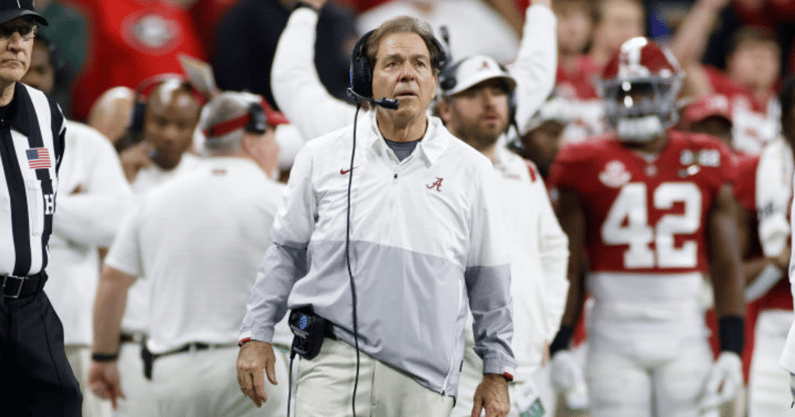 Under Nick Saban, losses at Alabama have been few and far between. And the Crimson Tide have not just won, but been the class of the sport for nearly a decade and a half, winning six national championships in that span.
It could've been seven this past January, but Saban and Alabama were bested by Kirby Smart and Georgia in the national championship game. After defeating the Bulldogs weeks prior in the SEC title game, Alabama was up by five with less than a quarter to play in the title game when it started to unravel. Spending the offseason with that bad taste has been informative for the Crimson Tide and Saban.
"I think that we weren't able to finish," Saban said on SportsCenter. "One of the things you have to do to be a great competitor is when things don't go well in a game, you've always got to be able to hit your chest, recenter, refocus your energy so you can play the next play. And being ahead, 18-13, with 10 minutes to go in the game, and then giving up what, 21 points or something in the final 10 minutes of the game, was really, really disappointing."
While the championship loss obviously lingers as Alabama prepares for the 2022 season, Saban thinks that players feeling that disappointment, getting to know it, and then working to avoid it is beneficial.
"But I think players remember their disappointments," Saban said, "which can used as a really positive motivator, I think, for the future. And hopefully that will help us this year and doing the things we need to do to have success."
With stars from last season's runner-up team coming back — like quarterback and reigning Heisman winner Bryce Young, and the über-talented Will Anderson, who could be the top pick in the 2023 NFL Draft — Alabama should have plenty of motivation to reclaim the spot atop college football.