Nick Saban shares high praise for Carnell 'Cadillac' Williams after quick impact on Auburn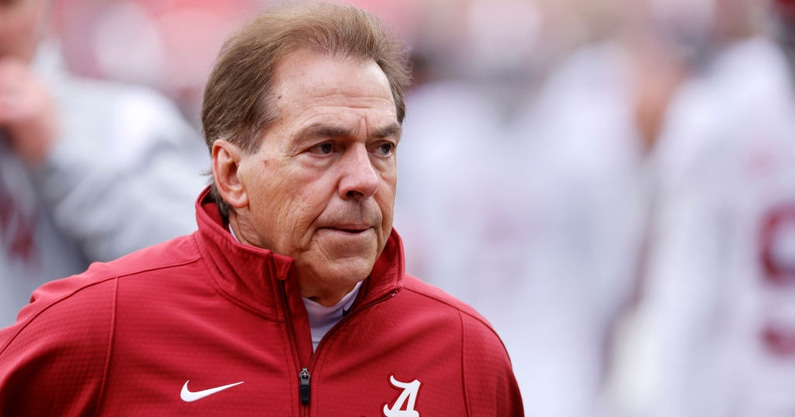 Ahead of their showdown in the Iron Bowl this week, Alabama head coach Nick Saban spoke highly of interim Auburn coach Carnell 'Cadillac' Williams. Williams took over for the program after the mid-season firing of Bryan Harsin, and helped lead the Tigers to a 2-1 record coming into Saturday's game. Saban shared his respect for the job Williams has done, and noted that his own personal impact shows on the football field with his players.
Nick Saban on Cadillac Williams
During a Wednesday version of the weekly Hey Coach & The Nick Saban Show, Saban was asked about how it felt to see Williams succeed — specifically after he was familiar with him during his recruiting time at LSU. Prior to Williams joining the Tigers and establishing himself as a huge name in the college and NFL ranks, Saban had wanted him to play for the other SEC Tigers team.
"I think he's done a phenomenal job," said Saban. "I mean, their guys are really… you look at the competitive character of a team and I think that is a reflection on how someone is impacting the team. And we spent most of our time looking at the last three or four games that they've played, and not necessarily the first games that they played. So I'm not making a comparison.
CLICK HERE to subscribe for FREE to the On3 YouTube channel
"But their players are really playing hard. They're playing good football. They're playing together as a unit, they have confidence, they believe in each other — and that's why they've won two out of the last three games they played and the one they lost they lost in overtime. So they're playing really well right now and I think you've gotta give Cadillac a lot of credit for that. Because that's not an easy situation that he sort of inherited relative to a changing of the guard right in the middle of the season.
"To get the players to rally for him in a positive way speaks volumes for the kind of competitive character he has."