LISTEN: Nick Saban sounds off on maintaining competitive balance in college football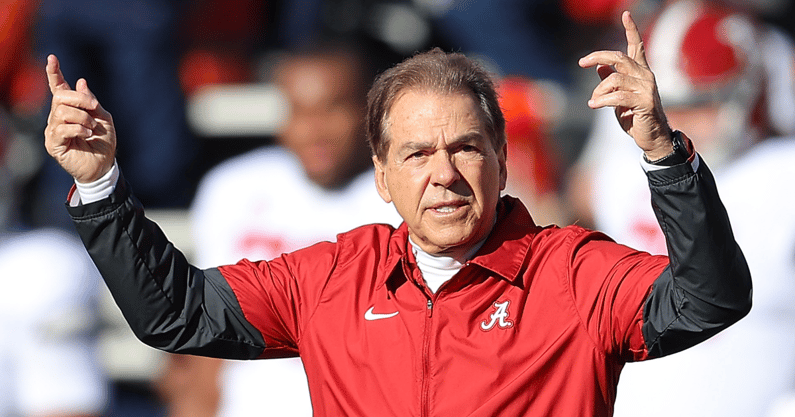 Nick Saban has been candid in his belief that the current NIL rules are not good for college football. The Alabama coach chimed in again Wednesday, speaking on the importance of protecting the parity of the sport.
Prior to his round at the Regions Traditions Pro-Am, Saban joined McElroy and Cubelic in the Morning where he preached about why competitive balance is important and how he believes NIL threatens that.
"We've always approached college football with everyone being equal," the coach said. "Everybody's got the same scholarship, everybody gets the same Alston money, everybody gets cost of attendance, academic support, medical treatment, whatever it is. It's always been the same. I think that there are things out there that have created inequalities in how we can maintain that.
"I'm all for players being able to make money in name, image and likeness and all that. If they earn it, they deserve it. But if we create imbalances, I think it will affect the competitive aspects of the game in a way that probably won't be favorable to fans and the competitive balance that we've always tried to keep. Every league has it. Whether you've got a salary cap in the NFL or whatever it is, every league has some type of way to keep a competitive balance, which is what creates some parity and really makes the game exciting because of the kind of games you end up playing."
This isn't the first time that Nick Saban has commented on the state of college football and NIL. Back in April, the coach called the current model "unsustainable" in an interview with the AP. Despite all his heavy criticism, Saban was also sure to make clear his intention to adapt, not rid of NIL completely.
"I know we have to adapt to that," Saban said. "You're going to have kids out there that say, 'Well, I can get a better deal going someplace else,' and they'll go there. But you're also going to have people that see the light and say, 'Yeah, they've got a good history of developing players. They got a good history of developing people, they got a great graduation rate and that value is more important.'"
Big changes are likely on the horizon after SEC commissioner Greg Sankey and Pac-12 commissioner George Kliavkoff met with US Senators this past Thursday to discuss federal NIL legislation. Four days later, the NCAA Board of Directors sent out new guidance clarifying the current NIL rules and prohibiting boosters from recruiting.
Although the guidance does nothing more than further explain rules that were already in place, it can be seen as a step in the right direction for what college football leaders, including Nick Saban, are hoping to accomplish. It might take some more time to get actual legislation to pass, but with so many people fighting, there is hope.