Open records: Texas A&M officials asked SEC to consider suspending, fining Nick Saban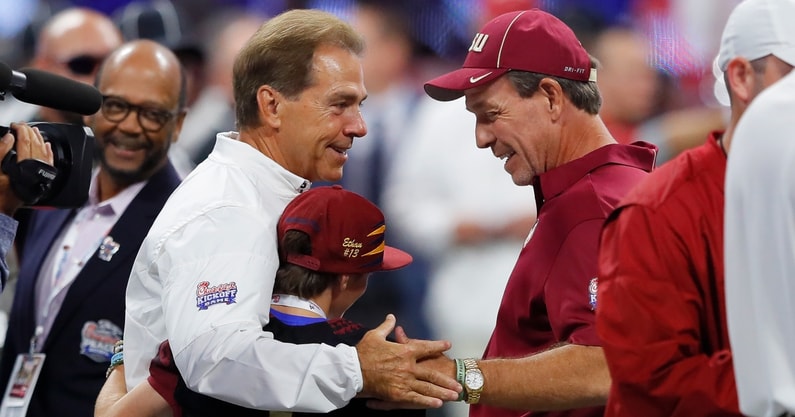 The morning after Alabama football coach Nick Saban alleged Texas A&M's football program "bought every player on their team," Texas A&M University President M. Katherine Banks and Director of Athletics Ross Bjork told SEC Commissioner Greg Sankey the conference should consider suspending and fining Saban for his comments.
Through an open records request, On3 obtained an email, co-signed by Banks, that Bjork sent to Sankey on May 19. Bjork and Sankey also had multiple phone conversations that morning, according to the email exchange, and Sankey and Texas A&M football coach Jimbo Fisher reportedly spoke on the phone prior to Fisher's now-infamous press conference.
"We write to express Texas A&M University's disappointment and outrage at the recent statements made by Alabama University [sic] Head Football Coach Nick Saban that 'A&M bought every player on their team-made a deal for Name, Image, Likeness,'" Bjork and Banks' email to Sankey stated.
"Coach Saban's statement was a blatant violation of SEC bylaws regarding sportsmanship. More significantly, without citing any facts to support his statement, Coach Saban is accusing every, single player in Texas A&M's recruiting class and current football team of violating NCAA NIL guidelines and Texas state law.
A&M said Nick Saban's statement 'beneath the dignity of SEC'
The email request from A&M continued.
"Coach Saban's statement is false, beneath the dignity of the SEC, and corrosive to the fabric of sportsmanship in college football as a whole and especially within the SEC. We expect the league to take strong, public action against Coach Saban and the University of Alabama to demonstrate that such unprofessionalism and disrespect for Texas A&M's student-athletes, coaches, and the university as a whole, will not be tolerated. A public apology from Coach Saban to Coach Fisher, Aggie Football, and Texas A&M University is a good starting point, but the league should also consider monetary and participation penalties against Coach Saban.
"Thank you for your concern and prompt attention to this serious matter."
SEC warned Fisher to also not to violate sportsmanship polices
On the day of the phone calls, email exchanges and the press conference Fisher called in response to Nick Saban's comments, Sankey traveled from New York City to Birmingham. That morning, Fisher told Sankey on the phone that he intended to hold a press conference, according to Sankey's email to Bjork that afternoon, and Sankey told Bjork he had "cautioned [that the press conference] should not violate the same sportsmanship policies cited below."
However, Fisher's comments about Saban at the press conference included statements like:
"Maybe somebody should have slapped him."
"It's the second time we've had to do this with grown men who don't get their way and want to act up and throw a fit."
"​​Some people think they're God. Go dig into how 'God' did his deal. You may find out about a lot of things you don't want to know."
SEC eventually reprimanded both Fisher, Saban
The SEC had prepared a statement in the morning after Nick Saban's comments to announce a public reprimand of Saban. Sankey wrote to Bjork that, "while working to finalize the press release focused on Coach Saban's public comments, I was made aware of video from Coach Fisher's press conference. After reviewing statements made by Coach Fisher, he also fell short of the expectation in SEC Bylaw 10.5.2 as he directed public criticism toward another institution's staff member. While, to a certain extent, his desire to clarify the record is understood, elements of Coach Fisher's comments are in conflict with the membership-established expectations."
Shortly after 3 p.m. CT, the SEC conference office shared with Bjork and Alabama Director of Athletics Greg Byrne a draft of a new press release. He later announced public reprimands of both Nick Saban and Jimbo Fisher. The SEC sent its press release at 3:45 p.m.
"I do not view suspension or financial penalty as appropriate at this time," Sankey wrote to Bjork earlier in the afternoon.
Alabama, which opens its season against Utah State on Sept. 3, will host Texas A&M on Oct. 8.