Paul Finebaum, Heather Dinich agree Alabama will be out of CFP with second loss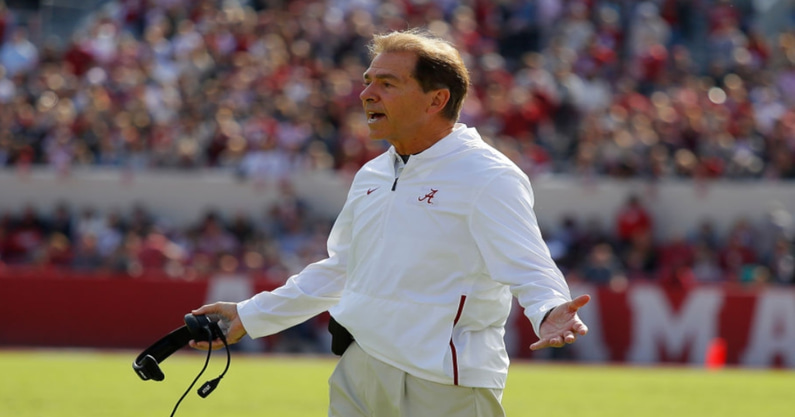 SEC analyst Paul Finebaum delivered a scorcher Wednesday morning during an appearance on ESPN's Get Up. Asked whether he'd bet his house against Bama, it sounds like he's fully turned against the Tide after their loss to the Aggies on Saturday.
"I don't think I've gone against Alabama in 10 years, but I'm betting my house against them this time," Finebaum said. "I don't see it, because they have to play Georgia. They can negotiate the rest of the season, they probably will if you look at the FPI. They don't have what I'd call a really dangerous game left – of course, I didn't think Texas A&M was a dangerous game. But to beat Georgia, they have to do things they haven't done this year, and … I don't see it happening."
The Crimson Tide fell to No. 5 in this week's AP Top 25 behind Georgia, Iowa, Cincinnati and Oklahoma – all undefeated teams through six weeks. While Alabama has Mississippi State, Tennessee, LSU, Arkansas and Auburn all ahead on the schedule, Georgia's only two major hurdles left are No. 11 Kentucky this weekend and Florida in Week 9.
As long as Georgia gets through those games unscathed, they're a shoo-in for the playoffs. Even a loss versus Bama in the SEC Championship game couldn't stop them.
"Alabama lurks as an SEC Championship game, but quite frankly, they could lose that game – (Georgia) could not even show up for that game and they're still in Playoffs," Finebaum said.
Senior ESPN college football writer Heather Dinich agreed with Finebaum's negative take on Alabama's CFP hopes.
"I can't believe I'm saying this on national TV right now because it's going to come back to bite me in the you-know-what," Dinich said. "But Alabama is going to be out (of the Playoffs) because I don't think they beat Georgia in the SEC Championship. We have not seen a two-loss team get into the College Football Playoff. The selection committee has to deem a team unequivocally one of the four best teams in the country. (And) if they don't win the conference championship, can they do that with a two-loss Alabama? I don't think so."
Finebaum criticizes Alabama coordinators in loss to Aggies
Paul Finebaum wasn't shy in taking Crimson Tide coordinators Pete Golding and Bill O'Brien to task over Alabama's upset.
"(Texas A&M) had a couple of friends helping them out, and they were dressed in Alabama coaching uniforms," stated Finebaum. "The performance would have to be considered one of the most embarrassing I've ever seen from Nick Saban coordinators.
"Pete Golding, the defensive coordinator, came under fire a couple of weeks ago .. it was just really abominable what I saw. And Bill O'Brien surprised me. Now the fact that Bill O'Brien's losing a game in the state of Texas shouldn't be a big surprise. I think Alabama had it on the three yard-line and had three straight passing plays.
"Even former players, DeVonta Smith was tweeting run the damn ball .. you never see that with Alabama players. I wanted to believe that O'Brien had the right cards."