Report: Alabama forward Darius Miles charged with capital murder on Sunday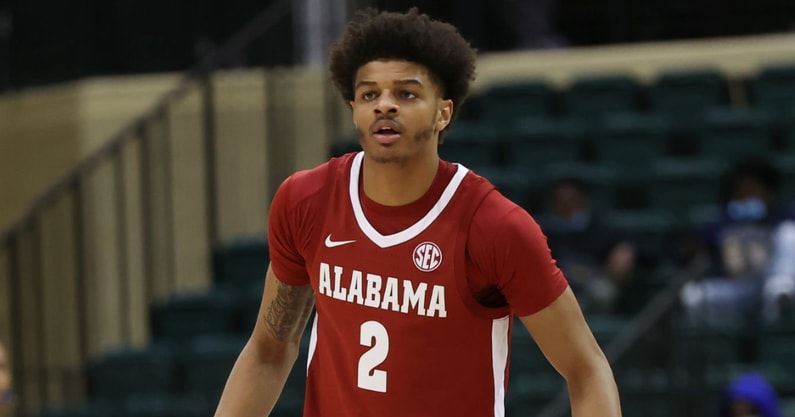 Darius Miles, a junior forward for the Alabama basketball program, was amidst a season where he was in and out of the Crimson Tide's lineup. He was said to be out with a 'personal matter' to end December and then, as of Saturday, was ruled out for the season with an ankle injury he had been apparently been dealing with since the preseason.
However, his story has now taken a surprising turn for the worst. In connection to the shooting of a woman that took place in Tuscaloosa on Sunday morning, Miles has been connected to it, charged with capital murder, and detained by authorities. Ben Flanagan of AL.com has since provided video of Miles leaving the Tuscaloosa County Jail.
Miles is one of two men being charged with the crime to this point. In response, Miles' biography on Alabama's team site has since been scrubbed. The university has also released a statement while the police have shared their details on what took place in the early hours of Sunday.
Miles had played in 53 games over his three-year career with the Crimson Tide. He averaged 4.2 points and 2.3 rebounds in 11.3 minutes per game during that time. Before that, Miles was a three-star recruit from Washington D.C.. He finished his high school career as a Top-150 prospect at IMG Academy in the 2020 class.
We'll have to wait and see how this story develops moving forward for the 21-year-old Miles. Still, this is an incredibly jarring shift from where things were headed for him just mere hours ago.
Police release details on Miles' charge, arrest
After news broke earlier this evening about Miles' charge and ensuing detainment, new details have emerged regarding his arrest from the authorities.
Their report was recently shared by AL.com. To start, police from Tuscaloosa as well as the University of Alabama were dispatched around 1:45 a.m.. They were sent to the Walk of Champions at Bryant-Denny Stadium. There they found 23-year-old Jamea Jonae Harris dead inside a vehicle, per Capt. Jack Kennedy of Tuscaloosa Violent Crimes, as they later deduced that the shooting had taken place off of University Boulevard.
The driver of the vehicle, who hasn't been identified, told police their car was hit with gunshots. In turn, the driver returned fire in self-defense and notified authorities that he may have struck one of the shooters.
Kennedy went on to say that, through witnesses and surveillance tapes, they were able to identify the two suspects. Miles was one along with 20-year-old Michael Lynn Davis. One of them was later confirmed to have been struck by one of the driver's shots. His wound was deemed as non-life threatening.
As for a motive, Kennedy said it seemed that it was the product of an argument that took place between the group of four after they had come across each other on the strip.
Kennedy said his unit 'utilized all their resources and worked together flawlessly to bring this case to a resolution in a rapid manner.'
All of this took place following Alabama's 106-66 victory over LSU earlier on Saturday. Miles was in attendance and on the Crimson Tide's bench.