Report: Jaden Shackelford signs deal with Oklahoma City Thunder following 2022 NBA Draft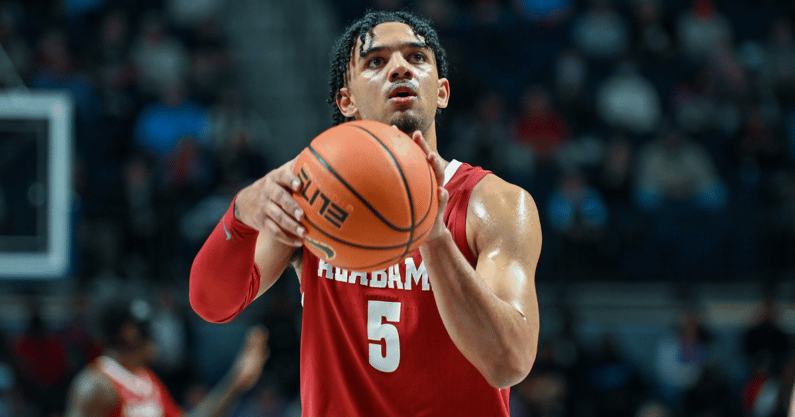 Jaden Shackelford is heading to Oklahoma City. After the conclusion of the 2022 NBA Draft, where Shackelford failed to hear his name called, the Alabama guard is reportedly heading to OKC to play for the Thunder. Here is the report from NBA Insider Brett Siegel on Shackelford's new home:
"Alabama's Jaden Shackelford has signed a deal with the Oklahoma City Thunder, per source."
An additional source, Ben Creider of SI.com, noted that Shackelford's deal is an Exhibit 10. He also shared that, as part of the Exhibit 10 contract, a player "will earn up to $50,000 if he plays 60+ days with the OKC Blue, if waived by the Thunder." So there's some insurances if Shackelford can stick at OKC — even in the G-League.
Well, if there's one place a young player should want to go to get ample opportunity to play, it's Oklahoma City. The Thunder are in the midst of a full-blown rebuild and just paired Chet Holmgren with Shai Gilgeous-Alexander and Josh Giddey. They'll likely be terrible again next year though, meaning they'll be rotating every young player they have throughout the lineup to try and see if they have anything worthwhile on the roster.
Shackelford will get his chance to shine as a rookie.
Shackelford background
Jaden Shackelford departs Tuscaloosa after three successful years at Alabama. He averaged between 14 and 17 points a game each season and was particularly effective from deep. He was a career 35.1% shooter from three with the Tide. And he made 248 total deep balls during his time in college. This guy is a shooter. Something only helped by the addition of coach Nate Oats.
Oats' high-tempo, three-happy offenses allowed Shackelford to thrive as a chucker. Somebody who raced down the floor to throw up threes whenever he got the chance to. Good preparation for a career in the NBA that will likely have him doing just that: taking and making tough jumpers. He'll need to improve his efficiency at the next level, but his jumper will give him a chance to play, especially with the Thunder.
Shackelford leaves behind an impressive collegiate career. He made an All-SEC team every year with Alabama. He made all-freshman in 2020, then was all-conference in 2021 and 2022. Heck of a college player with the jumper to make some real money as a pro.