Taylor Tannebaum recalls Alabama fan spreading grandfather's ashes in Bryant-Denny Stadium during Iron Bowl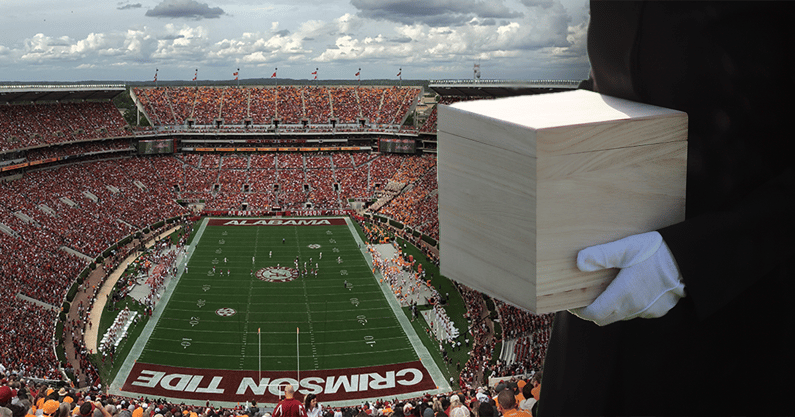 For SEC fans, college football is a matter of life and death. Unfortunately for ACC Network reporter Taylor Tannebaum, one Alabama fan took the prior statement a bit too literally.
In an interview with Kelly Gramlich and Eric Mac Lain, Tannebaum described a mortifying, yet hilarious situation at the 2014 Iron Bowl she experienced. Tannebaum, a young reporter at the time, was on the sideline preparing for the game when suddenly a young man walked up to her and pulled out a small bag.
"This is my grandfather's ashes. He's the biggest Alabama fan in the world and he wants to be laid here," Tannebaum recalled the man saying. "I was like, 'That's so cool, but can you not do it right now next to my feet. I'm going to be standing here the whole game. I don't want to step on your grandpa."
Tannebaum continued on, attempting to persuade the mysterious stranger from going through with his jaw-dropping goal.
"Alabama is losing right now. It was like 14-7 or something like that. You cannot spread the ashes when Alabama is down. This is just not OK," Tannebaum said.
Tannebaum could only debate the Alabama diehard for so long. With work to do, Tannebaum ran down the sideline to cover a significant play of the game. When she returned, something was different.
"The ashes are strewn. He did it without my knowledge. So, I come back and I'm like, 'Oh my God. I'm going to have to do this with grandpa's ashes next to me the entire game."
Evidently, grandpa was good luck. Alabama rallied back to ultimately win to defeat Auburn in stunning 55-45 fashion. Amid the chaos, Tannebaum couldn't help but to share the situation on social media. As expected, the novelty moment went slightly viral; viral enough for the young man to see the post.
"I end up getting a Facebook message from the guy," Tannebaum recalled. "He was like, 'Thank you so much. This means so much. My grandpa would have loved this.'"
In the end, the grandpa had a front row seat to the highest-scoring Iron Bowl ever, and Tannebaum had a first-hand lesson about SEC fandom.
"It's just very different there when it comes to that kind of stuff," Tannebaum said.