WATCH: Jameson Williams makes big announcement about his NFL future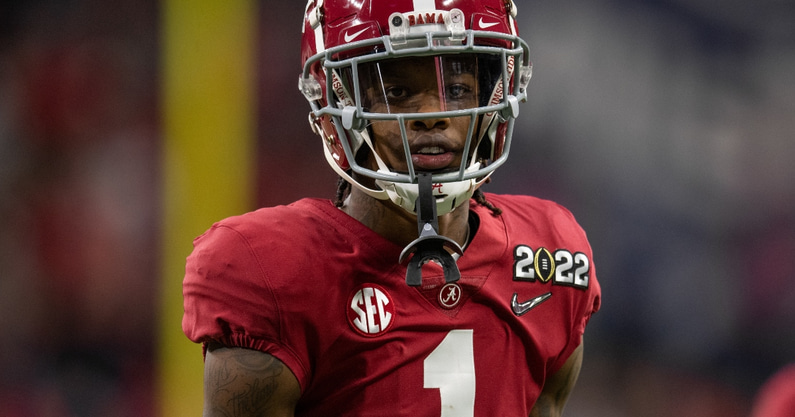 The future of Jameson Williams changed when he left the 2022 College Football Playoff National Championship with a knee injury. Now, the star wide receiver is making a big announcement regarding his NFL future.
On Thursday, Williams posted a video to his Instagram where he announced he was entering the 2022 NFL Draft.
The video featured a bevy of Williams' highlights set to Finesse Out the Gang Way by Lil Durk. At the end, the star Alabama wide receiver wrote a statement revealing he would enter the 2022 NFL Draft.
"First, thank God for making all this possible," stated Williams. "Mom, Dad, my brothers and my sister — thank you for everything. Y'all always have my back since day one, and I wouldn't be here without y'all.
"Coach Saban and Coach Wiggins, thank you for believing in me and the opportunity to show what I can do.
"My brothers, we been through it all. Wish it could have ended differently but it's nothing but up from here.
"Bama fans, thank y'all for welcoming me and making Tuscaloosa home for me and my family.
"With all that being said, I am starting the next chapter and taking my talents to the 2022 NFL Draft. Roll Tide."
In his lone season with Alabama, Williams put up fantastic numbers. The star wide receiver accumulated 79 receptions for 1,572 yards and 15 touchdowns for the Crimson Tide.
Jameson Williams was a huge piece of Alabama's offense. Now, he'll be one of the most coveted prospects in the 2022 NFL Draft.
Joel Klatt on Jameson Williams, Alabama
Joel Klatt brought the fire regarding the injury to Jameson Williams in the 2022 College Football Playoff National Championship. According to Klatt, it was trending towards an Alabama victory prior to the injury Williams suffered.
After the game, Klatt joined The Herd with Colin Cowherd to explain his thoughts.
"It was trending in that direction," Klatt responded, as Colin Cowherd stated Alabama would've won if Williams didn't get hurt. "Alabama was executing at a level that was going to allow them to win the game when he was still available.
"I think he had four catches, 64 (yards) if I'm not mistaken, and it's still early in the game when he gets hurt. It was pretty clear Georgia didn't have an answer anymore. He was well on his way to 150, 175 yards receiving. Maybe even 200 yards receiving."
Georgia had no answer for Williams in the SEC Championship, as the star wide receiver reeled in seven receptions for 184 yards and two touchdowns. If he didn't tear his ACL, perhaps he was on his way to a sequel.