Will Anderson reveals how he is approaching playing in the Iron Bowl vs rival Auburn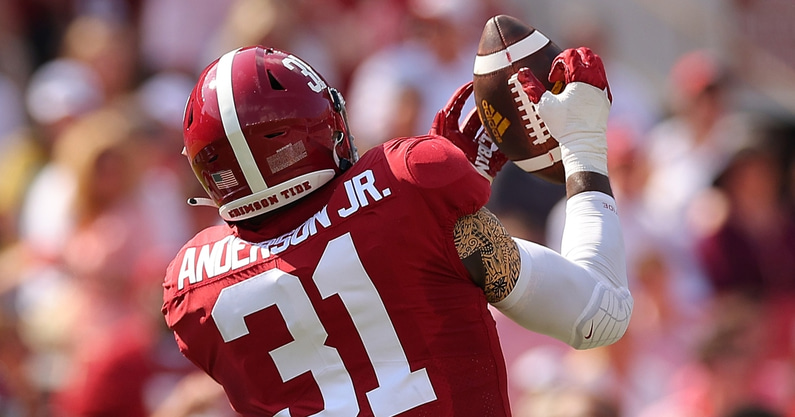 Alabama and Auburn are preparing for the Iron Bowl this week. This year, where neither team can make it to the SEC Championship Game and Auburn is already on an interim staff can feel easier to overlook than in most years. At the same time, this is still an incredibly important game for the players like Will Anderson.
While speaking to the media, Will Anderson was asked how he approaches playing in a game like the Iron Bowl.
"You know, this is like one of the biggest games in the country. It means a lot to a lot of people here. I know it means a lot to people in the facility and the players."
CLICK HERE to subscribe for FREE to the On3 YouTube channel
"But to play in another Iron Bowl is going to be good. Auburn has a really good team, a really good coaching staff, and everything like that. So, it's going to be a good challenge for us but we're ready to accept that challenge and go out there and play to the Alabama standard."
There is a chance that this is the last time Will Anderson will be able to play to the Alabama standard. If he were to declare for the NFL Draft and skip a bowl game, this will be his last game for the Crimson Tide.
The game will start at 3:30 P.M. on Saturday.
Will Anderson on his favorite Iron Bowl moment
Will Anderson will have plenty of opportunities to make great memories in what is expected to be both his last Iron Bowl and his last game at Bryant-Denny Stadium. For now, though, he explained why his favorite Iron Bowl memory is the end of the 2021 game.
"I would just say, as a team, when Kool-Aid [McKinstry] got that stop, he deflected that pass in the end zone, and then when Bryce [Young] went down and the offense went down and scored. I think those two moments were the biggest moments ever, and that's just as a team." Will Anderson said.
"I was so happy, I was just so up. I know Bryce was like one of the first people I hugged, but those moments right there are moments that you cherish forever because those are the moments that you have with your brothers that you spent all offseason working hard with blood, sweat, and tears. It's hard and everything like that, so those are the moments you don't take for granted."