Source: Arizona State makes decision on head coach Herm Edwards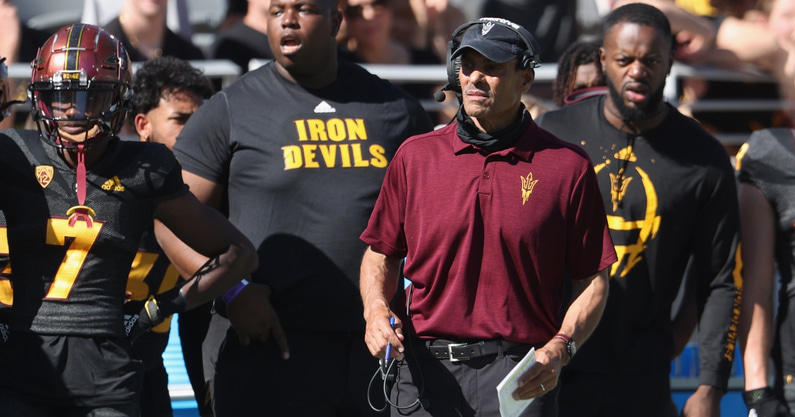 According to On3's Matt Zenitz, the "current expectation" at Arizona State is Herm Edwards will remain the head coach next season. For a while, it seemed as if the Sun Devils were going to be one of the Power Five programs with a job opening per Zenitz. Now, they will keep Edwards.
The head coach is currently in his fourth season in Tempe, sporting a 24-17 record. Within the Pac-12, he is barely above .500, having a 16-14 record.
All but the 2020 COVID-19 shortened season have ended with a winning record for the Sun Devils under Edwards. However, none have been more than an eight-win season. With two games remaining the season, that could change with a pair of wins.
Arizona State currently has a 7-4 record, heading into an in-state showdown against the Arizona Wildcats. With a bowl game, Edwards could have the program's first nine-win season since 2014.
Of the four losses on the season, all have come by double digits. Arizona State started the year 5-1 but have dropped three out of the last five and will not appear in the Pac-12 Championship. Utah will represent the Pac-12 South.
The offense under offensive coordinator Zak Hill has been a real issue. Quarterback Jayden Daniels is completing 66.2% of his passes but only has 2,135 yards through 11 games. Add on eight touchdowns and nine interceptions and Arizona State has not been able to put up points.
Running back Rachaad White has been the true lifeblood, having 1,327 total yards on the season. He leads the conference in plays from scrimmage and yards from scrimmage and is second in total touchdowns scored with 15.
Edwards, Arizona State dealing with NCAA
As Arizona State is undergoing an NCAA investigation for recruiting violations, defensive and recruiting coordinator Antonio Pierce is still with the team. The Athletic's Doug Haller reported on Pierce's first media availability since the investigation began that Pierce provided no comment on the ongoing NCAA probe.
According to multiple reports, an anonymous person sent a dossier of dozens of pages to the Arizona State athletic department. Within this dossier were receipts, pictures, screenshots and emails related to multiple potential recruiting violations committed by the Sun Devils staff.
Among the allegations, Arizona State allegedly hosted recruits during the NCAA-mandated recruiting dead period in the midst of the COVID-19 pandemic that started in the spring of 2020 and last until June 1, 2021.