Arizona State announces Herm Edwards relieved of duties as head coach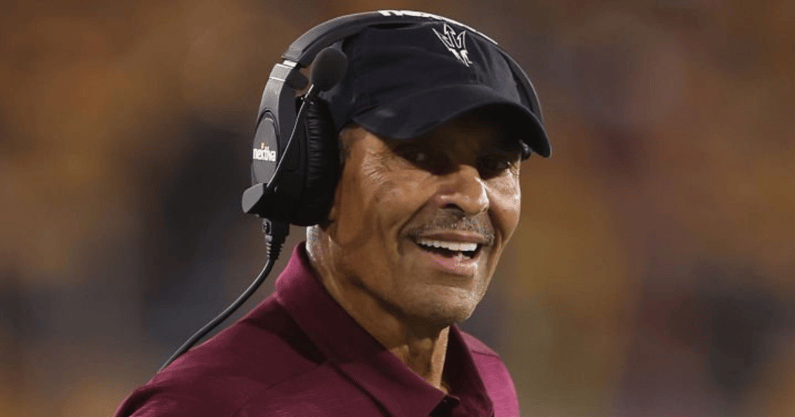 The Herm Edwards era has come to a close for Arizona State football. After last night's 30-21 loss to Eastern Michigan, some doubt was raised about whether Edwards would survive another disappointing defeat for the Sun Devils.
That doubt persisted until Arizona State announced their decision on Sunday that they havd relieved Edwards of his duties as head coach.
Edwards had produced just a 26-20 record over his five seasons as a head college football coach. While they've experienced some success, he has spent his fair share of time on the hot seat as well. With this loss to a MAC opponent and three upcoming games against ranked, Pac-12 opponents, ASU's Michael Crow seems to have decided that now was the time for a change.
Arizona State president raises doubt in Herm Edwards' job security following Eastern Michigan loss
Eastern Michigan outright dogged Arizona State on the gridiron Saturday night 30-21 despite coming into the game as 20-point underdogs.
With the loss dropping the Sun Devils to 1-2 on the young season, Arizona State President Michael Crow chimed in on the state of the program, and where it could be headed in the future – particularly regarding head coach Herm Edwards.
"They showed up to play, and we didn't Crow told the Arizona Republic, via The Athletic's Nicole Auerbach after the loss. "That's basically the outcome. … Like anything, when you're in combat, you support your officers. And we're in combat. But we'll have to decide where we're going from here and decide the issues are and see where we're headed."
Edwards has a 26-20 record as the ASU headman since taking over the role in 2018. Aside from the four-game COVID-impacted 2020 season, Edwards has led the Sun Devils to bowl games in every season and has won eight games in two of the past three seasons.
With two weeks of the hardest stretch of schedule Arizona State has left vs. No. 14 Utah and at No. 7 USC coming up, Edwards has a chance to silence his critics – or prove them right.