5-star PG Kylan Boswell commits to Arizona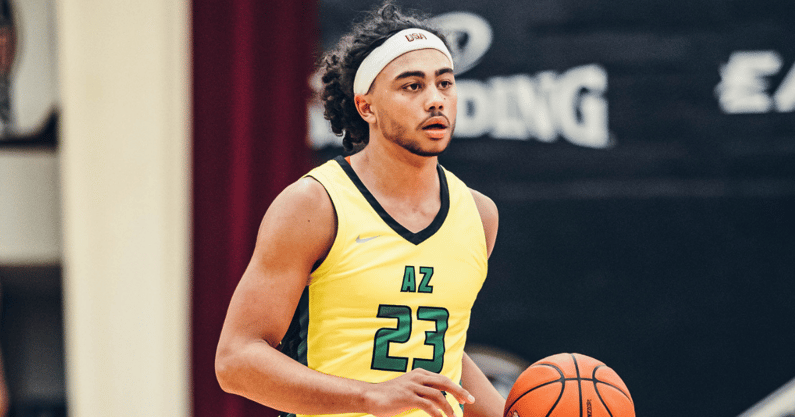 Five-star point guard Kylan Boswell has committed to the University of Arizona for the class of 2023, he tells On3.
The 6-foot-2 junior out of AZ Compass Prep ultimately chose the Wildcats over Illinois and UNLV. The Champaign native also considered Texas Tech, Michigan, Oregon, USC, and Kansas.
Boswell is Arizona's first commitment of the 2023 class and becomes Tommy Lloyd's first five-star commitment since taking over the head coaching job last year. The Wildcats have also offered Tyrese Proctor, KJ Lewis, Dusty Stromer, among others.
"I like their fast-paced offense," Boswell said of Arizona in a previous interview with On3. "Tommy (Lloyd) is kind of the mastermind behind the Gonzaga offense. They can score the basketball. Tommy is my guy. I really like Tommy a lot and the entire Arizona staff. I like the school a lot."
Boswell's head basketball coach at AZ Compass Prep, Ed Gipson, had some high praise for the talented guard.
"Kylan Boswell is a culture builder, winning is his No. 1 objective even if it means he had to sacrifice his game," Gipson said to On3. "He's gonna be the hardest worker on the team, his parents raised him to outwork the next guy and not rest on talent alone."
Reclass option?
Rumors have floated around about the possibility of Boswell being a reclass candidate, thus forgoing his senior year of high school. I'm sure Tommy Lloyd and Co. would love for him to reclassify into 2022, however, a decision has yet to be made.
"I have talked about going to 2022 with my parents, and we are not sure," Boswell said to On3's Jamie Shaw. "We are going to take our time with that decision."
Scouting Report
On3's National Recruiting Analyst Jamie Shaw had this to say about Kylan Boswell:
"Kylan Boswell is the consummate point guard. He is a high-level competitor that winning seems to follow. The Chandler (AZ) AZ Compass point guard has a strong frame that allows him to absorb contact in the half-court and not get bumped off his lines. He has great vision and can knock down shots at each level. The 6-foot-2 point guard straddles the line well between scorer and facilitator and he elevates the play of those around him. As an on-ball defender, Boswell uses his strength and anticipation to keep his man in front. This calendar year, Boswell has won a gold medal with Team USA, won a Peach Jam title with Team Why Not, and has led his AZ Compass team to an appearance in the upcoming Geico Nationals."
Boswell describes his game
"I feel I'm a good leader," Boswell told On3's Jamie Shaw. "I can shoot the ball at a high clip, and I'm a really good defender. I'm getting downhill a lot better since the summer; I've been working on that. I've heard I play like Trae Young, and I watch a lot of him. Some people have said Devin Booker too. I like how both of them can get to their spots."